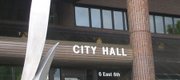 Subscribe to the email edition of Town Talk and we'll deliver you the latest city news and notes every weekday at noon.
News and notes from around town:
• More cars soon are coming to 23rd Street, and that is a good thing. Look for Shawnee Mission Kia of Lawrence to begin selling cars out of its new location at 1225 E. 23rd Street — the former Auto Exchange location — either late this week or early next week. Chin Rajapaksha, general manager of the Lawrence location, said construction work on the parking lot and a new canopy is about complete. The dealership is close to hiring the final positions on its staff, and it expects to employ about 20 people when it opens. The dealership will have a sales and service department. Hours of operation will be from 9 a.m. to 8 p.m. Monday through Thursday and 9 a.m. to 6 p.m. on Saturdays.
• If that deal doesn't tickle your fancy, come over here and kick the tires on this one. Subaru fans now have a new location to go for sales and service in Lawrence. Briggs Subaru has completed work to transform the former Enterprise Rent-A-Car location at 2233 W. 29th Terrace in the Lawrence Auto Plaza into a new home for the Subaru dealership. The brand isn't a new one to Lawrence. Briggs has been using a building across the street to house both its Subaru and Nissan dealerships. But as we reported back in March, the company made the decision that the two brands should have separate locations and staff. The move has required Briggs to increase its sales staff by about six people, and also to add several new service positions, said Eric Giroux, marketing manager for Briggs. The Subaru dealership is hosting an open house from 5:30 p.m. to 8 p.m. today.
• It looks like Briggs has another project underway at the Lawrence Auto Plaza. I reported in August that I heard a rumor that Briggs was looking to open a large auto body repair shop in the former location of Jack Ellena Honda off of Four Wheel Drive. Well, it looks like that was a good rumor. I now see where there has been a $200,000 building permit issued for an addition and remodel at 2957 Four Wheel Drive for a Briggs Auto Body Repair Shop. Giroux said his understanding of the project is that the auto body repair shop would be separate from the auto body shops connected to Briggs' various dealerships in town. But he didn't have other details about the project. The project will start to fill up the old Honda spot, which has been vacant since Ellena moved its operations to a more visible spot along South Iowa Street. In addition to the auto body shop, Enterprise Rent-A-Car moved its operations to the former Honda space after moving to make way for Subaru.
Giroux said he expects to see more construction work take place in the Auto Plaza as well. He said Briggs likely will undertake major renovation work for its Dodge/Chrysler dealership and its Nissan dealership, although he did not have a timeline for that work to begin.
• If I can't sell you a car today, how about some compost? Actually, it would be better if you can wait until tomorrow. The city's fall compost sale will start tomorrow and run through Saturday. The sale will run from 8 a.m. to 3 p.m. on Thursday and Friday and from 8 a.m. to 4 p.m. on Saturday, although it is common for the city to run out of compost early (insert your own joke here). The sale takes place at the city's Wood Recovery and Composting Facility at 1420 E. 11th St. If you don't know where that is, well, you just haven't been living life to its fullest. It is just east of 11th and Haskell streets on the other side of the railroad tracks. The city sells the compost for $10 per pickup truck load. The compost is made from the yard waste — such as grass clippings, leaves and small woody debris — that the city collects from households around the city.
• Traffic disruptions on Kasold from Trail to Peterson are about two weeks from being over. The city provided me a quick update on the project, which involves some repaving, median work and other repairs. But the project is creating a different look for motorists now. The city is moving all traffic over to one side of the median, while it does the final paving. This week all the traffic will be in the southbound lanes. In other words, one-lane traffic in both directions but on the same side of the median. Next week, the arrangement will be switched to the northbound lanes. I just thought I would pass it along. It is the type of change that might actually cause my wife to look up from her texting.
Copyright 2017 The Lawrence Journal-World. All rights reserved. This material may not be published, broadcast, rewritten or redistributed. We strive to uphold our values for every story published.