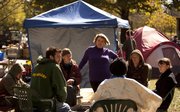 UPDATE:
Toni Wheeler, the city's director of the Legal Department, said two representatives from Occupy Lawrence came to her office in City Hall at 8:30 a.m. today to notify her that a "contingent" of Occupy Lawrence members would continue to camp in the park despite a warning from the city that they would be violating a law that prohibits use of the park during overnight hours.
"They weren't specific about how large the contingent would be," Wheeler said.
Wheeler said she was now in discussions with various city officials to determine what the city's enforcement strategy will be. Wheeler said she did not anticipate the city taking any enforcement action prior to 11:30 p.m. today, which is when the park closes for the day.
By city ordinance, Lawrence parks close from 11:30 p.m. to 6 a.m. Wheeler previously has said the city would have the legal right to remove the campers from the park, but she has stopped short of saying whether that will be the approach the city takes to enforce the law.
Sgt. Matt Sarna, a Lawrence police spokesman, at 4:30 p.m. Thursday said the city and police department were "working together to find options and facilitate the protestors' expression of freedom of speech."
"The Lawrence Police Department is committed to enforcing the laws and ordinances within the city limits of Lawrence including parks that have set usage hours. This enforcement could include citations, arrests or other types of enforcement actions deemed necessary," Sarna said. "The City of Lawrence Police Department has no formal timeline on enforcement action at this time and is hoping for a peaceful resolution to the situation."
At 7 p.m., members of Occupy Lawrence agreed by consensus that those who wished could stay in the park past 11:30 p.m. The group also voted to remove a majority of their camping equipment to a location off site.
Occupy Lawrence member Jason Phoenix proposed a resolution which would see the group leave South Park and occupy other parks for one or two days at a time before moving on.
"It's not about South Park, it's about continuing to spark conversation," Phoenix said.
Continue to check back to LJWorld.com for more developments.
Here's the earlier story:
They're staying. At least some of them are.
About 20 members of the Occupy Lawrence group indicated Wednesday evening that they plan to continue camping in South Park, even though Lawrence's chief of police and other city officials warned them the city would begin enforcing a law that prohibits camping in city parks.
After a meeting of more than three hours — which featured protesters huddled in a circle around donated propane heaters, speechmakers standing on a stump, and a voting system that involves several types of hand signals — many members said the Occupy Lawrence movement needed to move into a new phase of civil disobedience.
"Lawrence residents shouldn't only expect civil disobedience but they should participate in it," said camper David Hughes-Pfeifer.
At various times in the evening, about 50 protesters participated in the discussion — or the "general assembly" as the Occupy Lawrence group labels its nightly meeting. Not all group members agreed to camp at the park and risk fines or arrests from the city. But the group did unanimously agree to formally support those members who choose to keep camping in the park.
Several group members said that camping in the park was an important part of the protests, not only for the visibility it provides the organization but also because of the message it sends.
"I have a nice house just a few blocks from this park that I could be sleeping in right now," said Chelsea Donoho. "It is ridiculous that I'm sleeping in this park. But the reason it is important that we continue sleeping in this park is because it shows how damn serious we are."
Gus Bova — a Lawrence resident, Kansas University student and an employee at a local pizza shop — said a poll of people at the park indicated about 20 people were preparing to continue camping, despite the city's order to stop the activity by this evening. Bova, though, said he thinks the group may gain more campers as news of the city's pending action spreads across town.
"I think people are realizing that a film screening or going door-to-door isn't enough," Bova said. "If that was enough to create change, we wouldn't be here. Sometimes extreme times call for extreme measures. That's really what this movement is about."
A little after 1 p.m. Wednesday, Lawrence Police Chief Tarik Khatib, along with the city's director of the Legal Department and Parks and Recreation officials, told the group of about 30 campers that their permit to stay in the park overnight has expired. Toni Wheeler, director of the Legal Department, said she told the group that the city expected the campers to remove their tents and no longer use the park between the hours of 11:30 p.m. to 6 a.m. — which is the time that the park is considered officially closed.
But Wheeler said the city did give the campers assurance that police would take no action Wednesday evening to enforce the no-camping provision. Instead, she expects the group to call her office by 8:30 a.m. today to notify her they intend to comply with the city's laws regarding the park.
After Wednesday night's meeting, though, the group agreed to tell Wheeler that it is likely some campers will remain in the park despite the city's orders. The group also will tell Wheeler that the campers will have the support of the Occupy Lawrence movement, which grew out of the Occupy Wall Street movement that is protesting economic inequality, the role corporations play in government and several other themes.
Wheeler stopped short of saying that the city would physically remove the campers if they fail to comply, but she said the city would have the right to do so.
"If they do not leave, they could be cited for a violation of the city code and they would be in the park without the legal authority to be there and they could be removed," Wheeler said.
Jennifer Dillon, a member of Occupy Lawrence who has been serving as a liaison to city officials, said a Lawrence police captain told her that the city was not planning to make arrests of campers tonight, although they may start issuing tickets.
A spokesman with the police department late Wednesday couldn't confirm that conversation, but said city officials would take an appropriate amount of time in evaluating potential enforcement strategies.
Wheeler said the city's code related to illegally staying in a city park has a broad penalty provision. It allows for the Municipal Court judge to issue of a fine of not less than $1 but not more than $1,000 for each offense, up to 180 days in jail or both a fine and jail time.
Wheeler, though, said she told campers that the city does not object to the campers using the park during the normal operating hours of the park.
"We did stress to them that we are fully supportive of them using the park in the daytime hours, even if it is day after day after day, as long as they remove their belongings and leave the park when it closes," Wheeler said.
On Wednesday evening, however, several campers were preparing for the possibility of being arrested. Several were writing in magic marker on their forearms the telephone number of an attorney who previously had told the crowd that he would represent any protesters who were arrested.
Copyright 2018 The Lawrence Journal-World. All rights reserved. This material may not be published, broadcast, rewritten or redistributed. We strive to uphold our values for every story published.