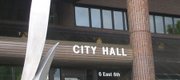 Subscribe to the email edition of Town Talk and we'll deliver you the latest city news and notes every weekday at noon.
News and notes from around town:
• Not many things last longer than a Chad Lawhorn golf game, but the run that Lawrence's Golf USA has had is on that list. For 16 years the golf equipment store at 33rd and Iowa has been serving golfers and hackers alike. That will end at the end of this month. Owner Kyle Taylor is closing the store after new owners of the building did not renew his lease. Taylor said he searched for a new location, and found several spots in town that would have been suitable. But in the end, he decided with the current economy that now may not be the best time to re-open the store.
"The economy has not treated the golf industry well," Taylor said. "A lot of people are playing less now or have just given up the game."
Taylor said the sport is really getting hit from two sides of the equation, both money and time. The sport isn't cheap, and it isn't quick to play. Taylor said the fact that many people are working longer hours these days has made the game tough even for people who have the money to play.
But Taylor is confident the game will bounce back when the economy does. He is staying in the industry with his own putter business. Taylor is the founder and managing partner of Tall Face Putters. The company is working to get a national distribution deal for a newly invented putter that — you guessed it — has a taller face. The taller face, Taylor said, is the key to hitting the "sweet spot" of the putter. (And here I thought a six pack of Coors Light was the key to all things in golf.) Taylor recently signed a deal with an overseas manufacturer that produces many of the top putters in the game. He expects to have models available for sale online and through area pro shops by the end of the year. Taylor expects Golf USA's last day of business to be on or before Oct. 29.
• As for what is going into the Golf USA building, I'm not quite sure yet. Taylor said the new owners of the building did not share that information with him. But in talking with some folks in the commercial real estate industry, they said there was a tenant on the hook for the space. I'll let you know when I hear more.
• Golfers won't have to go far to bury their sorrows in crab rangoons and egg rolls. (My wife is suddenly thinking about taking up golf.) The Hibachi Grill Supreme Buffet opens up today in the shopping center just north of the Golf USA site. The new restaurant — which is in the same shopping center as Bed Bath and Beyond, Kohls and other retailers financed by my checking account — is an all-buffet business. But the buffet includes a grill where a chef will prepare meat and vegetables for you while you watch, said manager Alan Chang. Prices for lunch are $6.95 for adults, while the dinner buffet is $9.95. Here's hoping that the nearby T.J. Maxx puts its elastic waistband collection on special.
• More information about Lowe's and its chances of landing a store in Lawrence. It looks like Lawrence's chances have been cut at least in half of becoming a site for the home improvement retailer. On Monday, the company released a statement to investors saying it was closing 20 underperforming stores in 15 states, and confirming it had "discontinued a number of planned new store projects." Last week we reported that local officials said that Lowe's had decided to put the proposed Lawrence project — slated for the area near Sixth and Wakarusa — on hold until after the end of the year. The statement from Lowe's sounds a bit different. Even if Lawrence does get back in the mix, it will have to compete harder to get a green light from Lowe's officials. The company announced it plans to build 10 to 15 stores a year for the foreseeable future. That is down from about 30 stores a year previously.
• Cheer up. I have news of a roundabout. What's more fun than the roundabout at Harvard and Monterey Way? How about the roundabout at Harvard and Monterey Way with a backhoe in the middle of it. No, don't get excited. They're not tearing it out. There's a nasty waterline break beneath the roundabout. Northbound traffic on Monterery Way and westbound traffic on Harvard will not be allowed through at least Friday. The roundabout will technically be open to southbound traffic, but I would steer clear of the area, if possible.
• File this one under the category of dignitary dog. When Marty Kennedy became Lawrence mayor in 1998, he received a gift of a Labrador puppy named Mayor. The dog accompanied Mayor Kennedy to most ceremonial events such as ribbon cuttings, parades, downtown celebrations, and likely ran the city in Marty's absence from time to time. Well, the Kennedys report that Mayor died recently. He was nearly 14 years old. I just thought I would pass it along. I can honestly say I've seen many types of beasts come through Lawrence City Hall, but I believe Mayor was the only one of the four-legged, tongue wagging variety. (Well, it depends on how you define tongue-wagging.)
Copyright 2018 The Lawrence Journal-World. All rights reserved. This material may not be published, broadcast, rewritten or redistributed. We strive to uphold our values for every story published.