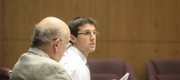 More coverage of the trial of a former Kansas University student accused of beating and kidnapping his ex-girlfriend.
Members of a Kansas Court of Appeals panel on Tuesday focused on whether they had the authority to overturn a conviction in a Douglas County kidnapping and battery case.
In 2009, a Douglas County jury convicted Matthew Jaeger, now 26, of kidnapping, aggravated battery and making a criminal threat in a case filed after his former girlfriend was beaten at her Lawrence apartment. Prosecutors said Jaeger, a former Kansas University student who is originally from suburban Chicago, burst into Francie Biggs' apartment in October 2007, choking her and causing injuries to her vaginal area. According to testimony at the trial, Biggs was with another man, Dylan Jones, that night. Jaeger also was convicted of threatening Jones.
"If a jury makes a decision and that decision is never to be questioned, then there would be no need to have an appellate court," Jaeger's defense attorney, Pedro Irigonegaray, argued. "What we're suggesting is the jury did have authority to make those decisions, but the decision that they made in this case is unreasonable based upon the evidence that they had to reach that decision. The circumstantial evidence just did not support it."
But Andrew Bauch, an assistant Kansas attorney general, said Irigonegaray was asking the appellate judges to take on the role of trial judges instead of make legal rulings on the appeal.
"The court's well aware that you are not allowed to do that," Bauch said. "That's what the jury did in this case. The jury got to decide the credibility and weight to give any witnesses."
The arguments in Jaeger's case and others before the three-judge panel — G. Gordon Atcheson, Karen Arnold-Burger and David Bruns — were held in the old courtroom that is now the Douglas County Commission's meeting room on the second floor of the courthouse, 1100 Mass. The judges met in Lawrence as part of an effort by the court to conduct hearings outside Topeka.
Jaeger is serving a nine-year prison sentence and is currently an inmate at the Ellsworth Correctional Facility. He was not at Tuesday's hearing, but his parents, Jerry and Ann Jaeger, watched from the spectator's section. Biggs also sat through the hearing.
Irigonegaray, who was Jaeger's trial counsel, has argued there's evidence that Biggs fell onto a bed rail, which caused her injury. He said expert witnesses for the defense who analyzed Lawrence police evidence from the crime scene made that determination.
"Isn't it within the province of the jury to say this expert is not reasonable and we don't have to believe them?" Atcheson interjected at one point. "It's bought and paid for, so we don't think this adds up here?"
But Irigonegaray argued the appellate court could determine that the circumstantial evidence prosecutors used added up to an unreasonable conclusion by the jury that Jaeger was guilty.
During Bauch's presentation to the court, the judges also questioned whether Chief District Judge Robert Fairchild acted correctly in dismissing one juror, Shaun Edmondson, and replacing him with an alternate juror during deliberations.
Edmondson admitted he re-enacted the scenario of the victim in the case falling onto a bed rail.
The defense has argued the remaining 11 jurors only told officials that Edmondson had conducted his experiment after they believed they would be deadlocked. Edmondson was in favor of acquittal. But Irigonegaray said Edmondson brought up his experiment at the start of deliberations and the other jurors chose to disregard it, which was correct.
Biggs, who no longer lives in Lawrence, said she was pleased with how Tuesday morning's hearing went and that she wanted Jaeger to serve his full sentence. She also said she hoped the case brought more attention to domestic violence and would urge other victims to come forward.
"I just hope that it can influence anybody else to do the same thing for themselves," she said.
The judges took the case under advisement and will rule later, Atcheson said. If they don't grant him a new trial, Jaeger could ask the Kansas Supreme Court to hear the case.
Copyright 2018 The Lawrence Journal-World. All rights reserved. This material may not be published, broadcast, rewritten or redistributed. We strive to uphold our values for every story published.