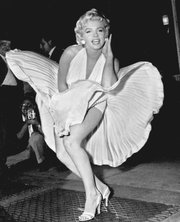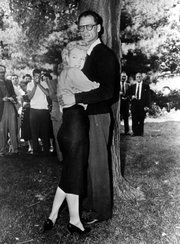 As the release date of "My Week with Marilyn" creeps closer, style enthusiasts and fashion addicts are increasingly interested in emulating the late star's iconic, sexy style. Actress Michelle Williams stars in the Marilyn Monroe role, her makeup and style adjusted on-screen to resemble Monroe's own sultry appearance. But you don't have to bleach your hair to achieve a Marilynesque style. Check out these outfit ideas for a look inspired by the bombshell herself.
Dresses
Monroe wore dramatic, glamorous dresses that embraced and accentuated her curvaceous figure. Deep V-necklines and off-the-shoulder silhouettes were among the star's top choices. Fluid, feminine fabrics are elegant, flirty and just forgiving enough. Pick out a draped dress in a flattering shape for your own body type. Typically, the starlet preferred candy-colored hues, soft pinks, pale greens and creamy ivory colors. But as fall approaches, consider opting for a classic, bold color, like burgundy or navy.
Skirts
Monroe often wore the simple, fitted pencil skirts, popular in the 1950s and early '60s. A pencil skirt is just fitted enough — still classic and sexy, but ladylike, too. Pair an Oxford shirt or a cardigan with your pencil skirt. Add your favorite pumps and a straightforward, ladylike handbag or simple box clutch to complete the look.
Pants
Although I always initially think of Monroe outfitted in her iconic, breezy white dress, the woman did wear pants. High-waisted denim worn with a knotted long-sleeve top is the most straight-forward 1950s look. And fitted, ankle-length trousers and a matching cardigan are always classic, and still sync with her personal style. Too straightforward? Pick up a pair of plaid or houndstooth trousers — you'll be perfectly in tune with Monroe's '50s style, as well an up-to-date stylista, trying out patterned pants, one of fall's hottest trends.
Accessories
The key to Monroe's wardrobe was its classic separates and feminine, glamorous evening wear. While some movie stars go out of their way to make a statement, decked out in gaudy accessories, Monroe's minimal accessories let her wardrobe speak for itself. So if you are attempting to add a little Marilyn into your own wardrobe, don't over-accessorize. Accent outfits with simple, teardrop earrings and a good pair of sunglasses. Or, for a weekend look, wear a scarf. Pair most every Monroe-inspired outfit with sexy, monochrome pumps, and — voila! — Hollywood glam achieved.
Copyright 2018 The Lawrence Journal-World. All rights reserved. This material may not be published, broadcast, rewritten or redistributed. We strive to uphold our values for every story published.