Photo Gallery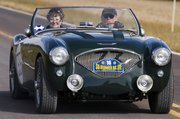 Sunflower Rallye, Oct 16, 2011
Early Sunday afternoon, members from the Lawrence All British Car Club took to the road with their prized European antiques. They were competing in the club's first rallye, a 119-mile drive that would test their driving and navigational prowess.
Luckily for area motorists, they still drove on the right side of the road.
The rallye — silent "e" — began at the Historic Taylor Barn, northwest of Lawrence. The pre-competition gathering could have doubled as an imported car show.
Most participants drove British sports cars, such as the Austin Healey and Lotus. The oldest car was made before World War II: A 1934 MG PA owned by the club's president, Brian Kelly. When he bought the car in 1987, it was simply pieces in a box.
Nineteen teams, of a driver and a navigator, participated in the European-style competition, a mixture of time and points stages. Navigators used a map to direct the driver, registering markers that indicated the correct route. Like golf, drivers aimed for a low score, accumulating points when they veered off course.
Jonathan Ackiss, organizer and an Army major, joined the club when he moved to Fort Leavenworth. While he was stationed in Iraq, he and a friend shared their passion for cars. His friend was an American muscle car guy, while Ackiss preferred the British variety.
"We said, 'when we get back into the world, he's going to buy a Dodge Dart, and I'm going to buy a British car,'" Ackiss said.
Ackiss did just that, buying a 1965 Austin Mini in Britain and driving it back to his base in Italy. He then competed in two rallyes in Britain and Holland before moving to Kansas.
"I wanted to introduce what I learned in Europe and maybe start a new tradition," he said.
Kathy Wirken and her husband, David, drove from Kansas City, Mo. They've owned their 1955 Austin Healey 104 for 30 years and have been in many rallyes since.
"I thought it would be the thing to do on a beautiful fall day," Kathy said before the race.
A few minutes later, they drove off down the road. Kathy sat shotgun, ready to navigate her husband, who sat behind the wheel wearing brown gloves and with a cigar in his mouth.
Copyright 2018 The Lawrence Journal-World. All rights reserved. This material may not be published, broadcast, rewritten or redistributed. We strive to uphold our values for every story published.