Photo Gallery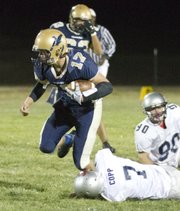 Veritas football vs. Cair Paravel
Veritas remained undefeated with a 74-14 victory over Topeka Cair Paravel on Friday in a tune-up for next week's game at St. Mary's Academy, which the Eagles defeated twice last season, including in the state championship game.
Veritas scored 60 of its points in the first half, as Nick Bennett rushed for 148 yards and three touchdowns on seven carries, Preston Randall for 125 yards and three touchdowns on 12 carries.
Cair Paravel scored the first touchdown of the game.
"We adjusted well," Veritas coach Doug Bennett said. "They scored a couple early touchdowns on us, and the guys buckled down and finished well and didn't get intimidated by an early competitive game."
Bryce Boland racked up eight tackles for Veritas.
Copyright 2018 The Lawrence Journal-World. All rights reserved. This material may not be published, broadcast, rewritten or redistributed. We strive to uphold our values for every story published.