Photo Gallery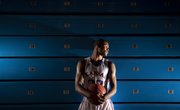 KU Basketball Media Day 2011
A collection of portraits and candid moments from Media Day, Thursday, Oct. 13, 2011 at Allen Fieldhouse.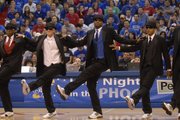 Complete coverage of Late Night in the Phog throughout the years.
Everything about Kansas University senior point guard Tyshawn Taylor is quick. His feet. His hands. His mind. The motor in his mouth. The man is one fast talker.
It's difficult for anybody like that to take a seat, relax and take in the world. It wasn't until Taylor served a late-season, two-game suspension that he took in his world. His world is basketball. And for a change, he sat on the outside looking in.
"You know what, I just thought about being able to watch those games from the bench, I got to see stuff that I didn't see in the game," Taylor said. "I watched Elijah (Johnson) most of that time because he was playing that position, so I got to see times when he could attack and he wouldn't in a game, so I think just being able to see the game from that aspect helps."
Even when he practiced during that time, his vantage point changed.
"I got to play against the starters in practice, so I was watching how they were guarding me at practice, and coach was just letting me play, so I was shooting it every time," Taylor said. "That gave me some confidence in my game. I was making some shots, and when I came back, we had a couple talks, and coach let me play and had confidence in me, and I played pretty good."
It's not known what Taylor did to draw the suspension, but at this point, who really cares? He came out of it a better man and basketball player. He shared a little bit about what his talks with his coach were like.
"They could be different," Taylor said. "They could be really good or terrible. I've had a bunch of both. Coach Self is a really understanding guy. I mean, he definitely wants the best for us. He's hard at times, but at times some of us need that, so I think he finds a happy medium for the most part."
Taylor is the leader of a team that doesn't have as much depth, size or offensive firepower as most of Self's. Taylor's been around long enough to know Kansas still has something going for it that opponents don't.
"With coach Self being our coach and the good work our coaches do on scouting reports and things like that, I think we always have an advantage just because of our coaching staff," Taylor said.
Coaches and their point guards, both strong-willed by nature, forever butt heads.
Taylor knows Self will face so many challenges with such a young roster shy on size, he can't afford his most experienced player acting like anything but his most mature player.
"I think if he's happy with me, I think I'll be a happier person and a better player, honestly," Taylor said. "When he's happy, everybody's happy, and we can just play and have fun, and it won't be like just screaming, screaming, screaming.
"I think it's easiest to keep him happy, and I just felt like we haven't in the past."
Self predicts Taylor will make him proud.
"I think he's going to have a great senior year," Self said. "I think he's matured. I think he's grown up."
He's gone from follower to leader.
"He said he wanted it, and now's he got it," Self said. "And now we'll see how he reacts to it. But all indications are to me and to our staff that he's well on his way to doing a great job with it."
Copyright 2018 The Lawrence Journal-World. All rights reserved. This material may not be published, broadcast, rewritten or redistributed. We strive to uphold our values for every story published.