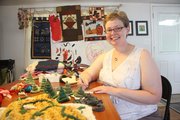 Past Event
When: Saturday, October 22, 2011, 10 a.m. to 4 p.m.
Where: Pachamama's , 800 New Hampshire, Lawrence
-->
-->
The Internet is a wondrous thing if you happen to be starting a business, but sometimes face-to-face contact can't be beat.
Especially if what you're selling begs to be cozied up to or snuggled.
That's exactly the case for Lawrence's Eden Detrixhe. A longtime knitter, she started selling handmade scarves, cowls and wall art on craft purveyor Etsy.com last fall through her own page/store, Woolflower Boutique. A single-work maker — "I move one, and then I move on," she says — she doesn't ever expect to make a lot of money selling dozens of the same thing online or in a shop, but she wanted to figure out a way for others to know about her work. Festivals allow the opportunity to sell, but the only one she'd attended so far was this summer — not exactly prime time to sell scarves.
"Well, wool scarves in August? It was still on the heat wave," she says. "I just wanted to give it another try."
And, as a mother with a baby due in December, she knew she'd miss out on the various holiday markets where her crafts would be appreciated.
She decided to go out on her own, creating the Handmade Market, a showcase of 14 Kansas City-area Etsy artists, including five from the Lawrence area. It will be from 10 a.m. to 4 p.m. inside Pachamama's restaurant, 800 N.H. Visitors will be eligible for hourly drawings for prizes from Etsy artists as well as Pachamama's.
Detrixhe hopes that the market can spotlight local artists, who might get lost in the shuffle of Etsy's huge community.
"It's nice that people can leave reviews, and say something about quality and promptness of delivery," she says. "But it is a very large website, isn't it?"
Detrixhe worked with area Etsy groups — the With Love From Lawrence, Kansas City and Kansas Etsy teams — and says there was a strong pull toward holding an event in Lawrence because it's "enthusiastic about the arts." The result is a show with vendors that run the gamut from all-out art to handmade items of a more practical nature.
Among the one-of-a-kind arts and crafts will be:
Jewelry
Home, office and nursery decor
Paintings and prints
Clothing, including aprons, scarves, mittens, gloves, cowls and children's items
Reusable personal items
Hand-dyed yarns and fibers
Building relationships
Susan Theroff, for one, is excited to get in some personal interaction with customers. Theroff owned a retail shop in Excelsior Springs, Mo., before moving to Lawrence in 2009 and then to Berryton last year. She says it's been interesting to adapt her sales skills to an online store — Tivoli Design — but that she's excited about the chance for some one-on-one time with customers.
"You build such great relationships face-to-face and over time," says Theroff, who makes both custom and pre-made bags, clothes and art. "I think you can do that over time on the Internet too, but there's really something that's fun and exciting about being face-to-face and discovering new people."
Matt Harden has only been selling his jewelry — fashioned out of upcycled wood — for a year through his Wood Somethings Etsy shop, maintained by his wife, Angela. He's done Art in the Park and said that experience opened his eyes to exactly how different his wares sell online and in person.
"You can take as nice of pictures as you want, but the reality is people want to hold it in their hands. Or the earrings for example, they hold it up to their head and say, 'How does this look?' to their friend," Harden says. "Getting their hands on it helps a lot. We sell a lot more individually when people can actually touch it, feel it, look at it."
The market will be the first show for Jennifer King of Cozy Folk, a shop that popped up on Etsy this summer selling reusable alternatives to disposable items for kitchen, baby and personal use. She says she expects the experience to be different, though her products are a bit more practical than artistic, per se.
"I do a lot of emails back and forth with customers online, but they're all over the world, and so it's harder to have that personal perspective with it, which is such an important part of handmade items," King says. "I think because people want to meet the people who are making things. So, you can actually talk to the person in front of you, I think that adds a lot to it."
And customers won't have to work hard to get it, figures Detrixhe. She says if they just have a typical fall morning, the market will easily fold into the day.
"It's right beside the Farmers' Market. So, people can have a very 'Lawrence-y' morning and get their coffee and produce and go look at some arts and crafts," Detrixhe says. "It's also a game day, so I'm optimistic about it being busy downtown."
Handmade Market
Vendors include:
Copyright 2018 The Lawrence Journal-World. All rights reserved. This material may not be published, broadcast, rewritten or redistributed. We strive to uphold our values for every story published.