Photo Gallery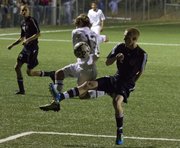 LHS-FSHS soccer
After 99 minutes of back-and-forth play, it figures the last shot would come down to Lawrence High's stand-out goalie against Free State High's scoring menace.
FSHS senior Jake Walter broke free and had a one-on-one opportunity against LHS senior goalie Tanner Click with 16 seconds to go in the second overtime. Click leapt forward, timing the jump perfectly, grabbed possession of the ball and did his best to get the ball to his team with time left to score.
The clock ticked down, and the cross-town rivals had to settle for a 0-0 tie Thursday night at Free State.
"He's a good goalie," FSHS senior Andrew Craig said of Click. "But Jake's probably one of the best strikers here on the field. It would have been nice to have it."
Both teams had grounds to say that they could have or should have won. The Lions and Firebirds each had calls go against them and missed opportunities they would like to have back.
Most notably, with 3:00 left in the first overtime, the whole LHS fan section thought the Lions had won. A would-be goal resulted from a struggle in front of the Firebirds' goal, but a penalty was called, and the goal was nullified.
It seemed that both teams played similar defensive styles, but that didn't translate into actually knowing how to break down the other team effectively, LHS senior Nick Haig said.
"We couldn't figure out each other's tactics, how we had to play defensively and how their offense worked," Haig said.
The whole game was a defensive struggle, which is how both teams usually play. But neither team budged much, except for the negated goal.
Overall, LHS coach Mike Murphy said it was a hard-fought and sportsmanlike game and that the end result could have been worse.
"I feel like we came out of the game with a positive attitude," Murphy said.
Both coaches had compliments for the other team, with Murphy commenting on Free State's offensive attack of seniors Walter, Zach Gay, Zack Thompson and Hunter Peirce.
FSHS coach Kelly Barah showed his respect for Click, who held the Firebirds scoreless. Barah also said Murphy has done a solid job with the Lions and their program is on the upswing.
"I think Lawrence soccer is just getting better and better," Barah said. "I can't wait to see what the future holds for us."
This game is the second consecutive 100-minute, double overtime tie for FSHS after Tuesday's 0-0 game against Olathe East. The Firebirds felt good about that tie, but this one was a little harder to take.
"As a coach, you would say that you take this one instead of losing," Barah said. "Not satisfied by any means, but I think the atmosphere was great, and it was a well played game from both sides."
LHS (5-7-2) will host Shawnee Mission West at 7 on Tuesday night. FSHS (7-5-2) will visit Mill Valley at 6 p.m. Monday.
Copyright 2017 The Lawrence Journal-World. All rights reserved. This material may not be published, broadcast, rewritten or redistributed. We strive to uphold our values for every story published.