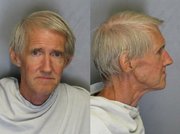 A 68-year-old man who lives just south of Lawrence is in an Illinois jail, charged with shooting his cousin to death on a family soybean field northwest of Champaign, Ill.
Gerard James is being held in lieu of $1 million bond in the Champaign County Correctional Center. He'd been in the area for a few weeks, helping his brother harvest soybeans on land they own together.
Last Friday, on an 80-acre field just north of Mahomet, Ill., Gerard James had been driving a grain truck while his brother, Alan, had been operating a combine.
Lt. Ed Ogle, commander of the investigations division for the Champaign County Sheriff's Office, describes what officials believe happened next:
A van pulls up shortly before 3 p.m., driven by Gerard James' cousin. Inside is Harlan James, who lives in Champaign and is hauling brush out to his own field nearby, where he planned to burn the material.
Harlan gets out of the van, and walks up to the grain truck. He and Gerard meet — what, if anything, is said remains unknown.
From the combine, Alan hears shouting. Then a shot.
Harlan is dead, and Alan sees his brother holding a pistol, still sitting in the cab of the grain truck.
The brothers talk, and decide that someone should notify the authorities. Alan makes the call, and Gerard is arrested.
Gerard James doesn't dispute what happened, Ogle said Tuesday.
"He readily admits that he was afraid of him and that he shot him," Ogle said Tuesday, of the ongoing investigation. "We don't know why, obviously. (Harlan) was an 80-year-old guy. He didn't have any weapons with him."
Gerard James has been arraigned and charged with first-degree murder. He faces up to life in prison.
Ogle said that Gerard James would make his way into the area twice a year: for the planting of crops in the spring and harvest in the fall. His mother lives in the area, cared for by Alan James.
While harvesting Friday, Gerard James had a 9 mm pistol with him, Ogle said. Alan James had a pistol and a shotgun in the combine.
The brothers also own some rural property together along the Kansas River, near Lecompton.
Gerard James has no criminal record in Douglas County. A records check indicates he's received "a couple traffic tickets," but nothing more, said Sgt. Steve Lewis, a spokesman for the Douglas County Sheriff's Office.
"That's just your average-adult type of stuff," Lewis said.
Copyright 2018 The Lawrence Journal-World. All rights reserved. This material may not be published, broadcast, rewritten or redistributed. We strive to uphold our values for every story published.