Photo Gallery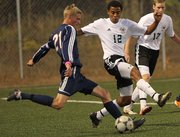 Free State soccer vs. Olathe East
Free State and Olathe East high schools played two overtimes, and each team took plenty of shots. Still, neither could score.
The Firebirds played host to the Hawks in a Sunflower League soccer game Tuesday night, and the teams combined for 15 shots that just didn't go in, resulting in a 0-0 draw.
"It just came down to, did we have or did they have one person that could finish that one chance," FSHS coach Kelly Barah said. "Today, nobody could."
When it was over, including the 20 extra minutes, players were busy recovering from cramps and fatigue. Even goalie Luke Lesslie had an extensive workout.
"I'm pretty tired after that game," he said. "I'm not going to lie."
O-East took a majority of the shots, but FSHS (7-5-1) held on with defense.
FSHS senior Zach Gay, who replaced an injured Alex Trent at center back, helped the defense subdue the attack. Senior Zack Thompson had a desperate game-saving deflection in the second half with the goal left wide-open.
There was a little bit of luck on defense, too. The Hawks (8-4-1) had three solid shots ricochet off the goal posts.
"It was that close," Lesslie said.
Each team missed opportunities, but Barah said that given the quality of opponent, a tie wasn't a disappointment.
"When you play an elite team and you know you're a good team too, a result like this is not a bad outcome," he said.
Lesslie said Barah always told the team that it could shock the big teams, and Tuesday night was a decent example. But the team had so many chances it was hard to digest.
"I'm glad that we tied," Lesslie said, "but I feel like we probably could have won."
Now FSHS looks ahead to Thursday's game against cross-town rival Lawrence High.
"I think it's two teams in the same city that can play really good soccer and have actually announced that they're getting to that elite status," Barah said.
The players are excited for the rivalry game, and Lesslie said people compare both teams since they both play low-scoring games. That doesn't mean the teams are going to stick to their reputation.
"All that matters is how we play against them," Lesslie said.
The game will be at 6:30 p.m. Thursday at Free State.
Copyright 2018 The Lawrence Journal-World. All rights reserved. This material may not be published, broadcast, rewritten or redistributed. We strive to uphold our values for every story published.