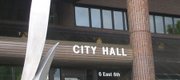 Subscribe to the email edition of Town Talk and we'll deliver you the latest city news and notes every weekday at noon.
News and notes from around town:
• News of a second Dunkin Donuts location opening in Lawrence has caused some people to drool more than my wife does at a Johnny Depp movie. (It's not the pirate talk that interests her, I've found.) But now people want to know when the new store at Sixth and Michigan streets will open. Well, Sonny Patel — local franchise owner — told me recently that the store likely will open in the second week of November. We reported all the way back in November 2008 that Patel planned to open a store on the site. A variety of issues slowed the project, but Patel said customer demand for a store along busy Sixth Street was too great to ignore. I suspect he's right. I've had several people call wanting to know when the store would open, and one person even told me that she would be changing her daily route to work as a result. (I need to know her secret because if I ate a doughnut a day, forget about changing my route to work. I would have to change my mode of transport from the F150 to a double-wide bus.)
Patel said the new store will employ about 35 people and, of course, will have the same menu as his existing store along 23rd Street — which will remain open.
"But the inside of the new store will look more like a coffee shop instead of a doughnut shop," Patel said. "It will be a more modern design. It will be a completely different look than our other store."
The new store also will have the same hours as the existing store — 5 a.m. to 10 p.m. on weekdays and 5 a.m. to midnight on weekends.
• Speaking of routes to work, maybe someday a completed South Lawrence Trafficway will be an option for area motorists. KDOT certainly is planning on that, and now they're also working on plans for how the road could charge a toll. As we reported in June, the state said it wanted to consider a toll on the road as a way to provide some funding for the project. Now, the state has hired a firm to conduct a scientific survey of area residents to determine how large of a toll they would be willing to pay. An Olathe-based firm is conducting phone surveys with 800 residents of Douglas, Johnson and Shawnee counties.
"It is a willingness to pay survey," said Josh Powers, a spokesman for KDOT. "Before the agency can make any substantial progress on a plan, we need to understand how any toll would affect traffic."
When the idea was announced in June, KDOT leaders said any toll likely would be a dollar or less. They also said a system would be created so that local traffic wouldn't pay a toll to use the road. For example, a motorist entering the SLT at Clinton Parkway and exiting at Haskell, would not pay a toll because there would not be toll booths at each interchange on the trafficway. Instead, KDOT is considering an option where there would be a toll booth at the western end of the road (the Lecompton interchange on the Kansas Turnpike) and the eastern end of the road (at Noria Road on K-10). Under that scenario, a person entering the SLT from the Kansas Turnpike might pay 50 cents when entering the SLT and then would pay another 50 cents if they exit the SLT at its eastern end.
Another option, Powers said, is to just have a toll booth on the west end of the road. That would seem to treat Kansas City and Topeka commuters differently. People coming from the east who would use the SLT to get home from work wouldn't pay a toll because they would never go through the western interchange. People coming from the west, though, would. Of course, another option is that KDOT will decide not to charge a toll. Powers, however, said that option could negatively impact the feasibility of building an interchange at Bob Billings Parkway and the SLT. Toll money likely would be used to help fund that project.
Powers expects the survey to be completed in the next few weeks. When a decision may be made on tolls is less clear. The trafficway project is awaiting a key legal ruling from the 10th Circuit Court of Appeals regarding the long-standing issue of whether the proposed route for the road legally can go through the Baker Wetlands. Oral arguments still have to be made in that case. But Powers said, assuming the state is victorious in the legal matter, KDOT will be prepared to start construction on the road in late 2013.
• I have an article in today's Journal-World about a controversy over whether to move the old Varsity House at the northwest corner of 11th and Indiana streets to make way for a 50-unit apartment complex, complete with underground parking on the site. Plans call for the house to be moved from the corner to the north end of the site. That has created concern among historic preservationists, and also created the prospect of a close vote on the project at City Hall tonight. But now I'm hearing that a compromise may be floated. The idea would be to move the house to the south, actually moving it closer to the corner. The house currently sits in the middle of two lots at the corner, so there is room for it to go south. No word yet on whether that compromise will save the day, but it is worth keeping an ear open for tonight.
• Three quick pieces of downtown news that I'm chasing down. I hear that longtime Lawrence artist Louis Copt and a partner are opening up a new art gallery at 815 Mass., in the space next to Mark's Jewelers. No word yet on exactly what type of art they are going to be offering, but I'll catch up with them and report back. Also, I hear that a business that will sell handmade clothing and handbags will be opening in a spot on Eighth Street next to the Mirth Cafe. I've also got a call into that entrepreneur. And finally, there's news about British food coming to downtown Lawrence. The Kansas City Star is reporting that Queen Lizzy's Fish and Chips will open at 125 E. 10th St. in the former home of the Tenth Street Vegetarian Bistro. England-native Matt Poulton, who was a chef at the Bistro, will operate the location. Plans call for it to open in the next couple of weeks.
Copyright 2018 The Lawrence Journal-World. All rights reserved. This material may not be published, broadcast, rewritten or redistributed. We strive to uphold our values for every story published.