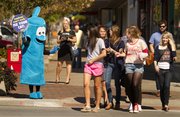 Bob Barker never pitched spaying and neutering quite like this.
Two women, one dressed as a condom, took to Massachusetts Street at noon Tuesday to promote the virtues of having pets spayed or neutered.
"For people, preventing pregnancies is as easy as opening a condom. But the 8 million unwanted cats and dogs born every year can't even open the wrapper," said Katie Arth, a campaigner for People for the Ethical Treatment of Animals.
Jenna Cameron of Minneapolis, Minn., who was dressed as the condom, silently held a sign that read "Condoms won't work. Fix your cat!"
Both women are on a weeklong trip promoting the cause, and will make stops in Wichita and Jefferson City, Mo.
According to PETA, spaying one female dog or cat can prevent hundreds of thousands of births during the next six or seven years. The group estimates between 6 million and 8 million dogs and cats enter animal shelters each year, and about half are euthanized.
Arth said spaying and neutering pets can help solve this problem.
"Spaying and neutering only costs about as much as dinner for two, and it can be done as young as 8 weeks," Arth said.
On Massachusetts Street, public interest was mixed. Some people took fliers and offered support for the cause, but many told the women they had no pets or theirs were already fixed.
Arth advised people interested in learning more to visit Peta.org.
Copyright 2018 The Lawrence Journal-World. All rights reserved. This material may not be published, broadcast, rewritten or redistributed. We strive to uphold our values for every story published.