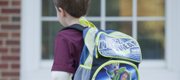 Subscribe to the email edition of First Bell and we'll deliver you the latest local education news and notes every weekday at noon.
Members of the Lawrence school board want to boost the district's communication efforts, and that could very well mean starting Lawrence school district accounts on Twitter or Facebook and other social networking sites for distributing official information and, perhaps, conducting community conversations online.
Monday night, however, they learned there might be a few barriers to overcome — starting on the technical side.
Rick Ingram, a board member who has advocated for establishing a district Facebook page, noted that one could be launched within three days — "if that." He mentioned the Shawnee Mission school district's page could serve as a model, one that administrators and other board members should look at to see what might be possible.
In fact, he suggested that the page should be projected on a big screen during the meeting, since the screen already was displaying the district's not-yet-live listing of communications goals pending at the district's own website.
"We could pull it up right now," Ingram said.
Not exactly.
"You can't," said Vanessa Sanburn, board vice president, "because it's blocked."
That's right: Facebook is inaccessible on the district's computer system.
"How ironic," someone said.
Someone hit the "Like" button for that last comment.
•••
Board members have agreed to form a Financial Advisory Committee.
Now all they need to do is decide how big it will be, who will serve as its members and what its charge will be in the months and years ahead.
The committee is included in a list of goals approved Monday night by the board, but members left its future intentionally vague. It turns out they need to have more discussions before establishing the committee itself.
Board member Rick Ingram said he wanted the group to provide comprehensive information about financial challenges facing the district. The committee, made up of interested volunteers appointed by the board, could help identify new ways to approach financial issues.
Board member Randy Masten envisions the committee having five members, "people who do this as a profession, or perhaps teach it at the university." They could provide administrators and the board with "advice on subjects that we suggest."
Mark Bradford, board president, said that he could see having a committee to "review issues as assigned by the board," but not one given board authority over the district's financial future.
"Just globally, I'm not in favor of having another group come in and just globally sit down and go through the books with our own staff," Bradford said. "I don't think that's appropriate.
"With five people, we're going to have a difficult enough time trying to come up with four votes on selecting five independent people. But then, to give them the freedom to just go in and do whatever it is they want to do, based on their self interests, I'm not for that."
Ingram's take, from his seat at the opposite end of the board's desk: "I'm not arguing that. … This is advisory. We can say, 'Thanks for your advice. We're going to do something different.' For me, it's just a matter of (getting) more complete information."
Another board member, Keith Diaz Moore, suggested that the board move forward with agreeing to create the committee, but leaving the details to a future meeting.
His fellow board members took his advice, and moved on.
•••
The board's draft list of goals for 2011-12 received praise from board members who had proposed goals, suggested formats and requested changes during the past weeks and months.
They're pleased with the finished product.
"It's rather ambitious," Diaz Moore said. "It's an amazing list."
Added Shannon Kimball, who, like Diaz Moore, joined the board in July after being elected in April: "It's a leap ahead of what we had last year. I'm pleased that we have made that leap."
Copyright 2018 The Lawrence Journal-World. All rights reserved. This material may not be published, broadcast, rewritten or redistributed. We strive to uphold our values for every story published.