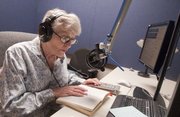 At 103 years old, Bill Calwell still plays golf and goes fishing. The Topeka resident has authored three books and continues to write on an old Royal typewriter.
However, his vision limits his ability to read, a big problem for a writing man. No worries, though. For the past 15 years, Calwell has subscribed to a free program that provides him audio recordings of his work and reads him the day's news.
It's called Audio-Reader, a Kansas University public service for visually impaired people. It's based in Lawrence at the Baehr home, 1120 W. 11th St., next door to Kansas Public Radio. It broadcasts readings of national and local newspapers and excerpts of books 24 hours a day.
"It's my right hand," Calwell said. "Sometimes I think, at my age, my life wouldn't be worth living without it."
Public-radio stations broadcast the program on a subchannel received through specially tuned radios. Audio-Reader provides free radios to anyone with a documented vision handicap.
The founder, the late Petey Cerf, an advocate for elderly people, realized nursing home patients needed such a service. She ignored skeptics and started the program with the university, which agreed to administer the program through its KANU station and pay for receivers. Cerf bought the transmitter required to broadcast the program. Audio-Reader began broadcasting 40 years ago today from the Sudler house, now the Max Kade Center.
"Probably not more than three or four of us could record at a time," said Eleanor Symons, who has volunteered for 40 years.
The station gradually grew, acquiring an old prison trailer and expanding its broadcast range beyond Lawrence. In 1988, the station moved into its current location, formally a fraternity house.
Today, the program is hosted on the NPR satellite and picked up by seven stations in Kansas and Missouri. Stations as far away as California and New Jersey broadcast select portions. Lori Kesinger, program manager, said Audio-Reader is nationally recognized for its excellence.
Programming is a mix of national and local news. Kesinger said the focus is to keep listeners in touch with their community.
"I try to ask, 'If you lived in that town, what would you look for?'" Kesinger said.
Users can call in and listen to the day's news over the phone. They can also submit documents to be recorded.
Audio-Reader relies on funding from the university and private donors, including the Lions Club. Money comes in cycles and, lately, Kesinger said it's a low one. The station is not facing immediate danger, though.
"It's not going to shut down," she said. "The founders set up a good framework."
Volunteers read thousands of pages every day.
When asked what motivated her to work with the organization for 40 years, Symons said it was the same reason she started.
"Honestly, I like reading aloud," she said. "I always have."
Copyright 2018 The Lawrence Journal-World. All rights reserved. This material may not be published, broadcast, rewritten or redistributed. We strive to uphold our values for every story published.