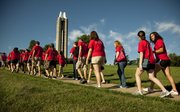 Talk to high school seniors about what's important when considering which college to attend and you'll get varied answers.
"I want to know how the average freshman would feel," said Dylan Orth, a senior at Lawrence High School. "I think what stands out the most is the town that these colleges are in and the campus."
Others like to know colleges are paying attention to them.
"The more times I see them in my inbox, it makes me feel like I'm important to them," said Madison Easley, an LHS senior who's considering staying in-state.
Facing three years of declining enrollments, Kansas University is making changes in the way it recruits to try to engage with a new pool of students on a personal level. KU leaders say they're expanding the numbers of potential students they're trying to reach, focusing more on students with solid high school GPAs but test scores outside the upper echelon and further personalizing their approach.
Matt Melvin, KU's vice provost for enrollment management, has been at KU for a year now after coming from the University of Central Missouri. He's led new enrollment initiatives, including a strategic use of data. KU is purchasing many more names (and corresponding data) from standardized test companies.
He and other KU officials are looking to increase the number of students who request information from KU. That figure is up about 20 percent from a year ago.
At KU, a lot of personal attention had been placed on students with a 26 and above ACT score, Melvin said. The emphasis of the previous chancellor was on recruiting National Merit Scholars, he said.
"What I want to do is try to identify, based on data, students that can be successful at KU," he said.
That may mean more attention placed on students with an ACT score of 23 or 24, but bolstered with strong high school grades. Given a choice between two students —one with a 28 ACT and a 2.2 GPA and another with a 24 ACT and a 3.2 GPA, Melvin didn't hesitate.
"I'll take the 24 and 3.2 every day and twice on Tuesday," he said. Those students, he added, often don't just succeed academically at KU, they become the most engaged with the school. "They're the ones that make KU a special place."
Still, some students with 18 or 19 ACT scores won't be recruited as heavily, Melvin said, as those students tend not to do well at KU.
"What I don't want to do is change a recruiting problem into a retention problem," Melvin said.
Melvin said KU also needed to tell students how, as the flagship public institution of the state and a member of the Association of American Universities, it differentiates itself from other higher education options in the state.
"If the perception of quality is the same, people will defer to cost every time," he said. "Cost is a horrible market to be competing on, because someone will always be cheaper than us."
As KU looks to personalize its recruiting efforts, it can build on what it's already doing, said Heidi Simon, KU's associate director of admissions who oversees freshman recruitment.
She works with 15 recruitment coordinators who oversee different geographic territories. The phone calls, the handwritten notes, the emails, they've already been doing that, and the coordinators are out in their territories working night and day to make contact with students.
Melvin, she said, has been supportive of their efforts, and has helped make changes like expanding KU's scholarship offerings for freshmen — something KU's recruiters had been asking for after they heard it on the road. Students must apply by Nov. 1 to be considered for scholarships, and the process is easier this year, after KU eliminated the scholarship essay requirement.
"(Melvin) saw how hard we were working," she said. "We just didn't have the right resources to make it happen."
Copyright 2018 The Lawrence Journal-World. All rights reserved. This material may not be published, broadcast, rewritten or redistributed. We strive to uphold our values for every story published.