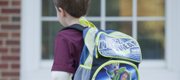 Subscribe to the email edition of First Bell and we'll deliver you the latest local education news and notes every weekday at noon.
Tonight, members of the Lawrence school board will consider buying new rooftop heating and air-conditioning units for district headquarters.
The 11 units would heat the interior — not the roof — of what formally is known within the Lawrence school district as the Educational Support & Distribution Center, 110 McDonald Drive.
The units up for replacement are more than 20 years old, are difficult to find parts for and, in fact, are failing, said Kyle Hayden, the district's chief operations officer, and Tom Bracciano, the district's division director for facilities and maintenance.
Inspections in August revealed that the 11 units had "holes, cracks and rust" in their heat exchangers, a condition that could lead to "serious safety concerns for building occupants" if and when the units would be switched over to heat from cool, said Hayden and Bracciano, in a memo to board members.
The district asked contractors to bid for the job, and three responded:
• Chaney Inc., of Lawrence, offered to do the job for $106,250.
• McElroy's Inc., Topeka, offered to do it for $116,673.
• Smith Service Co. Inc., of Lawrence, bid $121,690.
Board members are scheduled to approve hiring Chaney during tonight's meeting, set to begin at 7 at district headquarters.
The headquarters complex is the former site of the All Star Dairy. A project that both renovated and replaced the dairy received the Architectural Enhancement Award in 1993 from the Lawrence Board of Realtors.
The district lined up a contract in 1999 to buy the property in 1999 for $4.1 million, to accommodate and consolidate administrative and warehouse operations. The district's service center previously had been located on Clinton Parkway.
•••
Also up for approval by the board is a list of goals. Those goals, in turn, carry action items and timelines for getting them done — or considered, or discussed, or reviewed or whatever action is necessary.
One of the goals, as included in the draft document, calls for two specific items within an overall goal under the "equity" category:
The goal: "Allocate capital and human resources to areas of greatest need to maximize student achievement."
The two items envisioned:
• Develop a long-range capital improvement plan (including timelines and funding sources) taking into account facilities, technology, furniture and equipment. By January, administrators would report on process and procedures for capital planning; by March, they would recommend capital projects for the coming summer; and by July, they would identify "priority" projects to be included in a three-to-five year plan.
• Investigate current policy and practices related to allocation of school staffing. By April, administrators would review the effect of middle and high school reconfiguration on staff allocation practices.
Board member Randy Masten, for one, has asked for a process that would include more public input.
Again, tonight's meeting is set for 7 at district headquarters, 110 McDonald Drive.
Copyright 2018 The Lawrence Journal-World. All rights reserved. This material may not be published, broadcast, rewritten or redistributed. We strive to uphold our values for every story published.