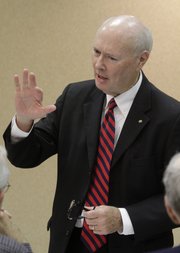 In his nearly 20 years on the federal bench, U.S. District Judge John Lungstrum says he's seen the importance of an independent federal judiciary.
The 65-year-old Lawrence resident, who took senior status last November, told Lawrence Rotary Club members Monday there are recent examples of federal judges ruling in cases and showing they're free from outside influence.
Judge Jeffrey S. Sutton of the Sixth Circuit U.S. Court of Appeals, a conservative and President George W. Bush nominee, last summer became the first judge nominated by a Republican to rule in favor of the individual health insurance mandate that is at the center of the controversial health care overhaul Democrats passed in Congress last year.
"These examples are the kinds of things that I think should give people some sort of good feeling that judges are out there trying to get it right and not just trying to substitute their own view of the way the world ought to be," said Lungstrum, a Kansas University law graduate who spoke at Holiday Inn Lawrence, 200 McDonald Drive.
Lungstrum, who was nominated by President George H.W. Bush in 1991, said maintaining an independent judiciary was vital.
"Federal judges don't answer to a political party or to a president or the Congress that appointed or approved them in order to keep their jobs," he said. "That's not the way it is in most of the world."
He reflected on many aspects of his job presiding over criminal and civil cases in federal court, saying the courts have adapted to technological advancements. He added that the federal court system had worked at containing costs as a branch of the federal government.
Lungstrum said a Supreme Court ruling in the last decade also changed the sentencing process. Federal sentencing guidelines went from mandatory to advisory.
"I think it's good because I believe that when we do send somebody to jail for the rest of their life, or for a substantial period of time, or at all, we should really have to come to grips with that and decide that that really is in fact what the right thing is to do," he said. "I don't think we should wash our hands Pontius Pilate-style and say 'oh gee, the guidelines made me do it.'"
Lungstrum also said he has tried to conduct business in his court in a certain way.
"Judicial independence doesn't mean that judges are or should be petty tyrants," he said. "We must be respectful of those who come before us — the lawyers, parties and the public."
Lungstrum still works as a judge with his chambers based in Kansas City, Kan. Senior status has allowed him to scale back his case load. It has also created one federal district court judgeship vacancy in Kansas. President Barack Obama has not yet nominated anyone to replace Lungstrum, according to the federal courts website.
— Reporter George Diepenbrock can be reached at 832-7144. Follow him at Twitter.com/gdiepenbrock.
Copyright 2018 The Lawrence Journal-World. All rights reserved. This material may not be published, broadcast, rewritten or redistributed. We strive to uphold our values for every story published.