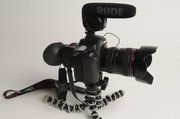 I think it's time I change my job description at the Journal-World from still photographer to visual journalist. I'll estimate that our staff now spends 35 to 50 percent of our time gathering, editing and producing video for online content.
We've transitioned from being single-shot storytellers to weavers of multimedia information. Fortunately, some of the tools and techniques used to produce good still photography are the same to succeed in video storytelling.
My cameras are Canons, an EOS 5D Mark II and a 7D. They not only capture large still frame files, but also record gorgeous HD video. Filmmakers are so impressed with the cameras' video capabilities that they've been used in TV and movie productions. The 2010 season finale of the popular TV show "House" was filmed entirely with the Canon 5D Mark II.
If you are new to video, own a point-and-shoot with video capability or are exploring video with similar gear, here are some tips from someone also exploring the new world of multimedia storytelling.
When filming subjects that are stationary it is wise to use a tripod. Shaky footage is distracting. If you don't have a tripod, look for flat surfaces or other ways to support and steady your camera. Yes, you can shoot without a tripod, and I often do, but it's best in situations where either you or the subject is also moving with the flow of the action.

Think in sequences. If you later want to piece together your footage and create a short film, consider gathering video from different points of view to provide the viewer with varied perspective. Still photographers tend to move around a subject with the goal of capturing just one moment that best documents the subject. With video, you need all the perspectives and cutaways to create a flow of visual information rather than one stationary shot. Vary your shots with wide, medium and tight framing of your subject.

Gather good audio. Most built-in mics on cameras that record video are not great but can be adequate if that is all you have. It's better if can add an external microphone or use a hand-held recorder and add audio in post-production software. When possible, match interview content with video footage. If you document a birthday party and you get audio of someone saying, "That was hilarious when the elephant stepped on the cake," it makes sense that you should have some cutaway footage of the elephant stepping on the cake. Your video and audio content should support each other.
There are situations where just pressing "record" and sticking to one subject is all that is needed for an interesting video. A lot of YouTube videos are successful with the simplest of techniques and tools. What is more important is being on the scene of a video-worthy event and knowing how to handle your recorder no matter how simple the device. Video capturing devices like Flipcams and cell phones can make everyone a multimedia storyteller with just a little know-how. But whether your camera requires its own bag or fits in a pocket, these tips still apply.
Copyright 2018 The Lawrence Journal-World. All rights reserved. This material may not be published, broadcast, rewritten or redistributed. We strive to uphold our values for every story published.