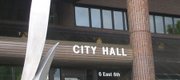 Subscribe to the email edition of Town Talk and we'll deliver you the latest city news and notes every weekday at noon.
News and notes from around town:
• Jayhawk basketball radio announcer Chris Piper knows a thing or two about buzzer beaters. Well, now it looks like he's involved with one not on the basketball court but rather at Lawrence City Hall. In addition to his radio gig, Piper owns Lawrence-based Grandstand Sportswear and Glassware, a company that does screen printing of apparel but really has a niche in the printing of logo-bearing glasses for brew pubs around the world. As we have previously reported, the company has won approval from city commissioners for a 65 percent, 10-year tax abatement to expand his business and move it into larger space at East Hills Business Park. But as city officials were finalizing the paperwork for that deal, a last-second twist emerged. Now Piper's company is seeking $25,000 in cash from the city's coffers to complete the deal. According to a report provided to city commissioners, "an opportunity for Grandstand to have a short-term lease for a portion of the new facility fell through." I'm not sure what that means, but I think it means Piper was planning to lease a part of the large East Hills building — it is the former Sauer Danfoss building — to another user for awhile. Regardless, whatever happened caused Piper to reconsider purchasing the building.
Now Grandstand says to make the project work, it needs $25,000 from the city. City staff members are recommending that the city make the payment, although they are saying it should be in the form of a "forgivable loan." Grandstand would be required to repay the $25,000, under some narrow circumstances, if the company doesn't meet its targets for job creation and such.
Staff members said even with the $25,000 payment, the city's cost-benefit model shows the city will receive $1.40 in benefits — both direct and indirect — for every $1 in incentives it provides the company. Without the $25,000 payment, it stood at $1.43. Grandstand is expected to add 84 employees over the next 10 years. New employees will have starting wages of about $12 an hour, and they'll grow from there. The company, however, is required to meet the city's living wage ordinance because it is receiving a tax abatement. Currently, the living wage is $11.58 per hour. The company, however, is being granted a bit of an exception from the living wage requirement. New employees will be allowed to be paid less than the $11.58 wage during the first 90 days of their employment while they are being trained.
This last-second addition is interesting on a couple of fronts. One, the company from the very beginning was seeking a cash payment from the city. When it originally applied for the tax abatement, we reported the company was seeking an unspecified amount of money from the city to pay for a lighting upgrade that would be necessary at the facility. But as the tax abatement worked its way through City Hall, that part of the request sort of faded away. It never was discussed when commissioners gave preliminary approval to the tax abatement at a meeting last month.
The other thing this $25,000 payment will do is further cement the trend that getting cash from the city is now firmly part of the culture for new projects in Lawrence. Here's a review of projects that have managed to win cash payments from the city: About $30,000 from the city (with an equal amount from the county) for Plastikon Industries to create new jobs in East Hills Business Park; $48,000 to the group redeveloping the Masonic Temple building to assist with ADA and fire sprinkler costs; $100,000 (with an equal amount coming from the county) to help Theatre Lawrence build a new facility in West Lawrence; $225,000 (with an equal amount from the county) to keep the state from closing the local SRS office; $500,000 for a future expansion of the bioscience incubator facility on KU's West Campus (with another $500,000 possible in 2013); $5,000 (with another $5,500 coming from the county) to Argenta, an animal health sciences firm that is moving into the bioscience incubator. (That incentive is still pending final approval.) On top of those, the Lawrence-Douglas County Bioscience Authority — along with the chamber of commerce and Douglas County Development Inc. — provided $225,000 in investment capital to Gyrasol Technologies, a start-up pharmaceutical firm that will locate in the bioscience incubator. The Lawrence-Douglas County Bioscience Authority receives the bulk of its funding from the city and the county.
(Plus, new information is coming out about how much the city may contribute to the renovation of the Poehler building in East Lawrence. It looks like the city would make a direct payment of $85,000 to the developer to install sprinkler systems. But in total, it appears the city would spend $1.3 million to build new infrastructure to serve the area around the building, including waterlines, street improvements and parking lots. Much more on this as I sort through the numbers.)
Don't get me wrong. I'm not trying to say any of these were a bad investment (by the way, many of the payments will be spread out over several years). All I'm trying to do is point out what clearly has become a trend. City commissioners will consider the $25,000 request at their meeting on Tuesday evening.
• Somewhere, many words ago, we mentioned beer and brew pubs. Well, there is a new Lawrence business that has brewing on its mind all the time. The Orchards Corner shopping center at Bob Billings Parkway and Kasold Drive is home to a new brewing supply store. JWL Craft Brewing provides supplies to brew beer, wine, soda, mead and other sorts of stuff that you can brew. Jake Lero started getting into the home brew scene a few years ago, and decided that opening a home brew store in Lawrence would make sense. He said the Lawrence Brewers Guild is the largest such organization in the state, and he said Kansas as a whole has seen good growth in the hobby of brewing beer.
"With the beer distribution laws of our state has, people have had a hard time getting the really good beer from other parts of the country, so a lot of people have resorted to making their own," Lero said.
The business is open from 10 a.m to 7 p.m. Wednesday through Friday, 8 a.m. to 5 p.m. on Saturday and noon to 4 p.m. on Sunday.
• If beer isn't quite your thing, you can get a shot of something a little different just a few doors down from JWL Craft Brewing. Also in the Orchards Corner shopping center is the relatively new Imagine Nutrition Club. Don't let the word "club" throw you. It really is more like a coffee house with a few twists — one of them being it doesn't serve coffee. Instead you can go in and buy a "healthy meal combo" that involves all liquids. (I know people who have drunk many a dinner, but I don't think that is where this is going.) The combo meal includes a vitamin-laden smoothie, a blend of green tea that the club calls "go-go" juice (again, not what I'm thinking of) and a shot of Mango aloe.
"People come in and sit down for lunch or breakfast and read a book and just get re-energized," said Amy Aaron, owner of the business.
The club part of the business involves nutritional coaching. The business sells the Herbalife brand of products. It also offers health assessments, and advice on things such a label reading, meal planning and other similar issues.
The business is open from 7 a.m. to 2 p.m. Monday through Friday.
• If you are like me (and if you are, I'll have my wife come get your credit card), yard work is a big part of your healthy living plan. Folks around the city may be getting their exercise this weekend shoveling large amounts of woodchips. The city's woodchip sale is going on today and Saturday. Hours are 8 a.m. to 3 p.m. today and 8 a.m. to 4 p.m. on Saturday. The city's Parks and Recreation Department sells the woodchips — which are often used as mulch — for $10 per pickup load. The sale is at the city's woodchip and compost facility at 1420 E. 11th Street, which is just east of 11th and Haskell.
Copyright 2017 The Lawrence Journal-World. All rights reserved. This material may not be published, broadcast, rewritten or redistributed. We strive to uphold our values for every story published.