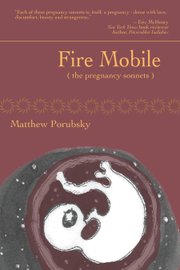 Parents are partners in everything having to do with their children. They can cuddle, discipline and protect all the same. But in that partnership there is one thing that men can't do, of course: carry the baby.
Topeka poet Matt Porubsky explores a man's experience during the wonder, mystery and unpredictable nature of his beloved's pregnancy in a new book of poetry released by Woodley Press. In "Fire Mobile (the pregnancy sonnets)," the Kansas University graduate "calls us to reclaim the beauty of the human body, gestation and birth," says Poet Laureate of Kansas and Lawrence resident Caryn Mirriam-Goldberg.
"What makes this book particularly astonishing is that its generative and generous celebration of the sacred feminine was written by a man, who, in writing this, shows us the hard-won and shining soul of real love," Mirriam-Goldberg says.
Porubsky, who directed the 2009 documentary "Porubsky's Transcendent Deli," will be reading from his new collection at 7 p.m., Monday, Oct. 10, at The Raven Book Store, 6 E. Seventh St. The reading and book release celebration is free and will also feature poet and "Fire Mobile" book illustrator Stella Robbins and Porubsky's wife and fellow poet Leah Sewell.
"My poetry roots began in Lawrence," Porubsky says. "The streets through town and on campus are flush with creative memories. I have been to many readings at the Raven, but have never had my own. I can't think of a more meaningful place for me to have a book release."
Copyright 2018 The Lawrence Journal-World. All rights reserved. This material may not be published, broadcast, rewritten or redistributed. We strive to uphold our values for every story published.