Photo Gallery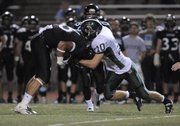 FSHS-SM East football
Overland Park — An improbable comeback for Free State High's football team ended a foot short Thursday night.
After driving 97 yards for a touchdown with no timeouts in less than a minute, Free State quarterback Kyle McFarland was stuffed at the goal line on a two-point conversion attempt with 12.4 seconds left, and Shawnee Mission East held on for a 14-12 victory at Shawnee Mission South District Stadium.
McFarland took a few steps left on the two-point conversion run before trying a quick cut up the middle.
"(The play) was working all night," McFarland said. "They overloaded the left side, and I probably made a cutback a little too early, but they stuffed it pretty good."
When the junior tried to make his burst, he was hit from the side by a defender. While struggling to get free, he was knocked back by two other Lancers.
After finally being knocked down, he extended the ball, only to see it was about 12 inches short of the goal line.
"We just didn't seal up the backside enough to cut it that quickly," FSHS coach Bob Lisher said. "If we sealed the backside, we'd have been OK."
Shawnee Mission East (3-3) recovered the ensuing onside kick to run out the clock.
The only reason the Firebirds were in a position to tie it was because of a remarkable final possession.
Following a 65-yard Connor Rellihan punt, Free State took over at its own three-yard line trailing 14-6 with 1:04 left and no timeouts.
Immediately, McFarland went to work.
He completed consecutive passes to Ryan Patterson for 12 and 20 yards, then scrambled for seven yards and out of bounds to move it to the 42.
SM East was flagged for a 15-yard pass interference on the next play, and McFarland followed with another eight-yard scramble before getting hit late out of bounds. The 15-yard markoff moved the ball to the East 20 with 20.4 seconds left.
"Everyone started making plays," McFarland said, "and our line was flushing defenders out and doing their job, so they were opening up holes for me to run."
On the next play, McFarland eluded a tackle, then scrambled to his left, where he saw receiver Tye Hughes waving his arms in the end zone.
"I was just trying to get open — get in the end zone and get open," Hughes said. "I knew Kyle was going to be rolling out, so I just tried to get open out there and make a play to keep us in the game."
McFarland delivered an accurate throw, and Hughes cradled the 20-yard touchdown reception with 12.4 seconds left.
"We did it without any timeouts," Lisher said. "That's pretty good for a high school team. It really is — to go down there and keep your composure and have a chance to take it to overtime."
Free State had to chase the final two points because of a missed extra point in the third quarter.
The Firebirds (4-2) also were haunted by three first-half turnovers, including two interceptions by McFarland.
"I was making really bad reads, and I was putting the ball where it didn't need to be," McFarland said. "Just not executing on passing."
After trailing 14-0 at the half, Free State used an 18-play, 77-yard drive to pull within a score in the third quarter.
The possession — which featured 17 rushes and one pass — was capped by a McFarland six-yard TD run.
"We just had a game plan to run the ball," Lisher said. "We had some pass plays called, but the passes weren't working. The running plays were."
Free State fell despite dominating statistically.
The Firebirds more than doubled the Lancers in first downs (25-12). Free State also easily outgained East (381-227).
McFarland had his third straight 100-yard rushing game, carrying it 29 times for 174 yards to lead the Firebirds.
Shawn Knighton added 23 rushes for 83 yards.
"It's hard for me to feel good about a loss, because I hate to lose," Lisher said, "but I feel like we played very well against a very good team."
Copyright 2018 The Lawrence Journal-World. All rights reserved. This material may not be published, broadcast, rewritten or redistributed. We strive to uphold our values for every story published.