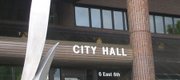 Subscribe to the email edition of Town Talk and we'll deliver you the latest city news and notes every weekday at noon.
News and notes from around town:
• Instead of writing this column this morning, I was at a meeting of the Jayhawk Breakfast Rotary Club stuffing my face with bacon and hashbrowns and serving as a guest speaker about City Hall and media issues. (Don't worry, the most you missed out on was the bacon. I'm rarely ever worth getting up early for.) But I did hear from some folks after the meeting about this issue of changes that may be coming to the city's trash service. One nice, mild-mannered, cane-carrying, lady told me that she was "going to have a fight" with City Hall if they try to require her to use a plastic cart for her trash. I told her I thought she'd better get her fighting gloves out because I think the idea of requiring residents to use city-issued plastic carts is going to be a strong recommendation of the Solid Waste Task force. I've heard several task force members say that the use of carts is far better for the city employees who do the heavy lifting of disposing of your trash. With a cart, they're able to wheel it up to a hydraulic lift and let technology do the heavy work. It doesn't work that way with a normal trash can. Plus, let's be honest, at some point in time it could allow the city to have fewer people on each trash crew, although what I hear is that any reduction in staff likely would be through attrition as the city gradually upgrades the technology of its trash truck fleet.
I think the bigger issue for debate may be whether the city-appointed Solid Waste Task Force is doing enough to recommend new efficiencies. I've heard from at least one person inside City Hall who has questioned whether the task force is on the right track by saying there will be three separate services — regular trash, curbside recycling and yard waste. Under that system, people may be setting something out on three different days of the week, which means heavy solid waste trucks would be traveling over essentially every street in the city three days a week. One issue that may get more study is whether there are trucks out there that would allow the city to pick up both trash and recycling on the same day with the same truck. (In other words a truck that has two separate containers.) I also think there might be some more discussion about whether the yard waste service ought to be automatically a part of everyone's bill (meaning trucks have to drive by every residence to see if yard waste has been put out to the curb) or whether it ought to be a subscription service that people pay something extra for.
What I know will be up for discussion, though, is this cart issue. And just because I expect it to be a strong recommendation from the task force doesn't mean that it is a done deal. As I told the Rotarians today, one of the strongest forces in Lawrence politics is a well-organized crowd. When the chairs at City Hall fill up, you never know what decisions might be made.
I am writing an article that attempts to answer some questions surrounding the trash and recycling issue in Lawrence. So if you have some, list them below and I'll consider including some of them in the article that should appear in the next few days.
• Speaking of breakfast, there soon will be one less place to get breakfast downtown on a Sunday. (Well, brunch technically, but I have a Mimosa with all my breakfast meals, so I sometimes don't make the distinction.) Steve Maceli of Maceli's catering told me that his business at 1031 N.H. will offer its last regular Sunday brunch on Oct. 16. Maceli said profit margins for the brunch business are lower than traditional catering events, and he and his advisers have made the decision to discontinue the brunch offering. The business will offer brunch on Mother's Day, Easter and perhaps some other special occasions. Maceli is urging people who have brunch certificates to the business to use them by Oct. 16, or to call the business, 331-2096, with questions.
• Speaking of organized voices, it looks like Wall Street won't get to have all the fun when it comes to protesters. A group called Occupy Lawrence is sending out messages through the social media world about a Wall Street-style protest or "occupation" that will happen at noon on Saturday at Ninth and Massachusetts streets in front of US Bank. No word on how long the protest/rally/occupation is slated to last. As this article from the Christian Science Monitor noted, the the Occupy Wall Street movement — which, of course, is spreading to lots of cities — lists "virtually every progressive concern of the early 21st century in its current manifesto." Given that, this group could be in Lawrence a long time.
Copyright 2018 The Lawrence Journal-World. All rights reserved. This material may not be published, broadcast, rewritten or redistributed. We strive to uphold our values for every story published.