Douglas County Sheriff's officials said a contractor doing excavation work acted quickly Thursday morning as he built a dam to contain leaking diesel fuel after striking a pressurized pipeline northwest of Lawrence.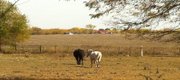 Sgt. Steve Lewis, a sheriff's spokesman, said an employee of R.D. Johnson Excavating at 11:46 a.m. struck the pipeline in a field east of the South Lawrence Trafficway and 1 mile north of Sixth Street. The employee was gathering dirt for excavation when he struck the pipeline, and first responders on the scene reported fuel shooting about 20 feet into the air, Lewis said. He estimated that 250 barrels of fuel were leaked, and state and company officials estimated that equated to 12,000 gallons.
"No fuel leaked into the environment because there was a bulldozer there ready to build a dam and to contain it," Lewis said. "We're pretty lucky. There were no injuries."
The company that owns the pipeline, Tulsa, Okla.-based Magellan Pipeline Co., through its own technology, also detected a leak and a drop in pressure and immediately shutdown the line, Lewis said.
In the meantime, R.D. Johnson workers began building a dam with dirt to contain the fuel that leaked. The leak occurred in the middle of a field near East 900 Road and North 1600 Road and was not near any buildings, Lewis said.
Hazmat crews with Kanwaka Township Fire Department and Lawrence Douglas County Fire Medical also responded to the scene, Lewis said.
"It is up to the contractor to mitigate or take care of the situation," Lewis said. "So that's what they're doing now."
Chris Whitley, a spokesman with the Environmental Protection Agency, said the EPA and Kansas Department of Health and Environment were also responding to the scene, chiefly to make sure any spilled fuel would not leak into any public water supplies. Whitley said the contractor had built berms to contain the fuel.
"It does not appear to be impacting any streams in the area right now," Whitley said. "It is within a few miles of the Kansas River, but it does not appear to be impacting any streams. Of course that is a primary concern."
KDHE spokeswoman Miranda Steele said Magellan company officials called in another company from Olathe to excavate soil.
"They will work to remove the soil that's been impacted from the diesel spill," Steele said.
Copyright 2018 The Lawrence Journal-World. All rights reserved. This material may not be published, broadcast, rewritten or redistributed. We strive to uphold our values for every story published.