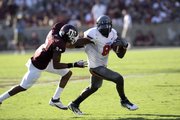 Kansas University defensive coordinator Vic Shealy praised junior cornerback Greg Brown with a pretty strong statement after last weekend's loss to Texas Tech.
"That was a man's man's performance out there by Greg Brown today," Shealy said after KU's 45-34 loss to Tech last Saturday. "He was locked up in man and press coverage, and he handled a lot."
The way KU's upcoming schedule shapes up, that was just the beginning. Saturday, when the Jayhawks face Oklahoma State in Stillwater, Okla., Brown and the rest of the KU defense will be tasked with slowing down two of the nation's top offensive playmakers: senior quarterback Brandon Weeden and junior wide receiver Justin Blackmon.
Both were a big part of OSU's record-setting offense from 2010, and, from the looks of their statistics through four games, both have picked up where they left off.
"You hear all about their offense," KU coach Turner Gill said. "Their quarterback is extremely talented. He's done a tremendous job understanding that offense. They've got a hot tempo. Their receiver, Blackmon, is very talented. He's done a lot of good things. Those two guys are very good."
Weeden, who will turn 28 on Oct. 14 and is about six weeks older than the reigning Super Bowl MVP, Green Bay's Aaron Rodgers, utilizes maturity and experience to remain calm no matter what's thrown his way. The key to stopping him, Gill said, was to make him adjust.
"If he makes mistakes, he knows how to respond," said Gill of Weeden. "We need to knock him out of his rhythm. And we cannot allow them to get their running game going. If they get their running game going, they can do what they want when they want."
The sixth-ranked Cowboys (4-0 overall, 1-0 Big 12) enter this week's game averaging 156 yards on the ground. So far, that's been just enough to allow Weeden to exploit opposing pass defenses. The QB who tried his hand at minor-league baseball before returning to college to play quarterback has completed 74 percent of his passes for 1,592 yards and 10 TDs. Nearly one-third of those yards and almost half of those TDs have gone to Blackmon, who ranks fifth in the country in receptions, with 38.
Despite facing such a dynamic pair, several Jayhawks have been comforted by having played against Weeden and Blackmon a year ago.
"It definitely helps because we know the players we're going against," sophomore cornerback Tyler Patmon said. "We know who has speed, who runs great routes, and we're kind of comfortable going against this offense."
Count Brown in that category, even knowing he'll stare down Blackmon in a few man-to-man coverage situations this weekend.
"I should," he said. "I'm looking forward to it. I know I had a lot of press man this last game, and it gave me a lot of confidence knowing that coach would make that call to put me in man and press coverage, knowing I'm on an island out there by myself."
Confidence or not, Brown's not relying on his mind-set to get him through a tough match-up.
"I'm getting a lot film work on him, trying to see how he does his cuts or how he sets up his out cuts or his route-running ability," he said. "You always want to take away the big, key players on someone's offense to try to see who else can make a play on their offense. Taking out their star players kind of makes them find another way to beat you."
Border War chatter
With questions still lingering about Missouri's commitment to the Big 12 Conference, KU junior Toben Opurum, one of the Jayhawks' most experienced players, shared Wednesday after practice what the storied rivalry meant to him.
"I would definitely like to continue playing Missouri," said Opurum, a defensive end/linebacker from Plano, Texas. "Me especially, I haven't gotten a chance to really play them, because my freshman year, I was hurt, and last year, I had a stomach virus during the game, so I didn't feel 100 percent. So, I would definitely enjoy playing Missouri every year, just to keep the tradition and the rivalry up. But if we didn't, I wouldn't be too heartbroken about it."
Opurum said the tradition surrounding the KU-MU Border War, which dates back more than 100 years, makes the match-up unique.
"As far as the atmosphere during the game, the week leading up to the game ... it gets the community and the fans in both states, it gets them a little bit more involved the week of that game," he said. "It's a big rivalry, definitely."
Asked a few minutes earlier what he thought of the idea of a league without Missouri, Gill stuck to a line similar to the one he had delivered numerous times before during the realignment saga.
"I haven't really thought about all that stuff to be honest with you," he said. "So I can't give an answer. I'm trying to get our team ready to play against Oklahoma State. That's a full job right there."
KU-UT to kick off at 6 p.m.
KU announced Wednesday that the Jayhawks' Oct. 29 game at Texas will begin at 6 p.m. The game will be broadcast jointly by The Longhorn Network and The Jayhawk Network. The Jayhawk Network will supplement The Longhorn Network's feed of the game with graphics, cameras and JTN announcers, who have yet to be determined. The game will mark JTN's first statewide football telecast. It will appear on the following stations throughout Kansas: KSMO 62, Kansas City; WIBW 13 (CBS), Topeka; KSAS 24 (Fox), Wichita; KAAS-TV (Fox), Salina; KOCW-TV (Fox), Great Bend; KSAS-TV (Fox), Dodge City and KAAS-TV (Fox), Garden City.
The game will be shown on the Longhorn Television Network in Texas and elsewhere around the country.
Cornish cranks career-high
Former KU running back Jon Cornish, who played at Kansas from 2003-06, recently rushed for a professional-career-high 149 yards during the Calgary Stampeders' 40-3 victory against Saskatchewan.
Cornish, who finished his Jayhawk career with 2,245 yards (ninth on KU's all-time list), also tallied 32 receiving yards and two touchdowns.
In 13 games this season, Cornish's fourth with Calgary, the former KU back has gained 485 yards on the ground and 316 more through the air.
Two KU former wide receivers also are on CFL rosters this season. Marcus Henry, who played at Kansas from 2004-07, is in his first year with the Edmonton Eskimos and has gained 384 yards on 33 receptions.
Brandon Rideau, who played at KU from 2001-04, is in his second season with the Toronto Argonauts. In August, Rideau was named the CFL offensive player of the week. His numbers include 445 yards on 33 catches and three TDs.
KU honors current pros
The KU football complex has some new artwork sprucing up its walls, homage to the former Jayhawks currently playing in the NFL.
Hanging in the hall that leads to the coaches offices are the jerseys of a few Jayhawks now playing professional ball. As of Wednesday night, only the pro jerseys worn by Anthony Collins (Cincinnati), Chris Harris (Denver) and Darrell Stuckey (San Diego) were hanging up, but KU officials said the rest were on the way. In all, seven former Jayhawks currently are listed on NFL rosters.
So far, Tampa Bay teammates Aqib Talib, a cornerback, and Dezmon Briscoe, a wide receiver, have highlighted the presence of former Jayhawks in the NFL this season.
Briscoe and Talib have both played key roles for the Buccaneers this season. Briscoe caught six balls for 56 yards in the first two games of the season while Talib has started all four games. The Bucs are off to a 3-1 start and are tied with New Orleans for the top spot in the NFC South.
Harris, a cornerback who entered the league with the Denver Broncos as an undrafted free agent, has had a surprising start to his first pro season. He has played in all four games for the 1-3 Broncos and has recorded eight tackles, six solo stops. Primarily a special-teams player, Harris recorded a season-high four tackles on defense during Denver's 49-23 loss to Green Bay last week.
Stuckey, a safety who played at KU from 2006-09, made one special-teams tackle last week during the Chargers' 26-16 victory over the Miami Dolphins.
Three other former Jayhawks, offensive lineman Collins, wide receiver Kerry Meier and fullback Moran Norris, occupy spots on NFL rosters. Collins and Norris have played little so far this season. Meier has played plenty, but still is searching for his first NFL reception.
Copyright 2018 The Lawrence Journal-World. All rights reserved. This material may not be published, broadcast, rewritten or redistributed. We strive to uphold our values for every story published.