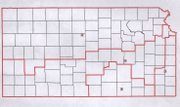 Topeka — U.S. Rep. Tim Huelskamp, R-Fowler, whose 1st Congressional District includes Lawrence ... wha??
In the redistricting process, just about any proposal can get a look-see, even one that draws a congressional district from Lawrence to Liberal, while also lassoing Kansas City, Kan.
Legislators pooh-poohed that map, which was provided by a source and described as a plan that was being circulated in Washington, D.C.
Huelskamp said he hadn't seen such a map.
"I haven't seen one like that," he said. "Wholesale changes would make little sense. Kansans would not put up with gerrymandering," he said.
Gerrymandering is the term used to describe the process of drawing district boundaries to benefit a certain party or candidate.
The Kansas Legislature has the once-a-decade task of redrawing boundaries for congressional, legislative and State Board of Education districts to equalize the population within the districts.
Since 2000, population shifts have put the districts out of whack.
The congressional districts should have about 713,280 people to ensure equal representation.
But the census showed the growing 3rd Congressional District, which includes the Kansas City metro area and east Lawrence, has about 55,000 more than it should, and the vast 1st District is about 58,000 people short and must be expanded further to make up the difference.
The House-Senate Redistricting Committee has been holding town hall meetings this summer and fall to get public input. State legislators will be charged with approving plans during the legislative session that starts in January.
In redistricting, where political fates can be decided, nearly anything goes, said Senate Democratic Leader Anthony Hensley of Topeka, who is the longest-serving legislator in the Legislature.
"At any point in this process, you could expect the most diabolical of schemes, the most partisan, political of schemes," Hensley said. In 2002, the Kansas Senate approved a redistricting plan that split southeast Kansas into three districts. That proposal eventually failed.
But the Legislature did pass a plan, despite the protests of many Lawrence officials, that set up the current boundary: Lawrence split between the 2nd and 3rd Districts. Prior to that, Lawrence had been wholly in the 3rd.
The 1st District, commonly called the "Big First," stretches over 69 counties, includes all of western Kansas and then crosses the middle of the state to take in Hutchinson, Emporia and over the northern part of the state into Marshall and part of Nemaha counties.
During the town hall meetings, Hensley has provided a PowerPoint presentation that includes what he says is a plan advocated by Republicans to push the 1st into Wyandotte County as a way to satisfy population needs and dilute the effect of Democratic voting in that county.

A map that shows Douglas, Wyandotte and Leavenworth counties in the 1st District is just as ridiculous, he said. The map would also reconfigure the 2nd District, which is currently represented by U.S. Rep. Lynn Jenkins, R-Topeka, and includes west Lawrence. Under that map, the 2nd would shed west Lawrence into the 1st, keep Topeka and then head west to the Kansas-Colorado border, taking in the top half of western Kansas. When shown the map, Hensley said it was "ugly."
"I would hope to think that common sense would prevail and that this map would not pass, but sometimes common sense takes a back seat and it becomes a raw political struggle that brings out the worst partisan intentions from people," he said.
Copyright 2018 The Lawrence Journal-World. All rights reserved. This material may not be published, broadcast, rewritten or redistributed. We strive to uphold our values for every story published.