News and notes from around town:
• Beer-swilling students with stereo speakers roughly the size of Fraser Hall are usually the people who come to mind when neighbors complain about the city's lax enforcement of a code that says no more than three unrelated people can live in a single-family home. City commissioners will hear plenty about that when they consider creating a new enforcement policy at tonight's meeting. But that's not the only group that will be affected. Joe Reitz, one of the founders of the local Family Promise organization, said there will be plenty of down-on-their-luck folks who are going to face major problems, if the city really does start cracking down on enforcement of the code. He told me he's not sure the city understands how many people are "precariously housed" currently in Lawrence. That means they may be sleeping on the couch of a friend or they may be renting a spare room from an acquaintance. That situation very well could put a property out of compliance with the code, depending on how many other people are living at the house. Reitz told me he's worried about the law of unintended consequences coming into play here.
"We sure don't need anymore clients," Reitz said of his organization that seeks to provide housing for homeless families. "We have plenty."
It is a fair issue to consider, but it is important to remember that even with a new enforcement policy, the city likely is going to deal with this code on a complaint basis. My sense is: The city is not going to spend a lot of time looking for problems but rather will respond to complaints. If there are people who are precariously housed who don't have speakers the size of Fraser Hall, who don't party into the wee hours of the morning and don't create all sorts of parking problems for a neighborhood, I suspect they'll continue to go undetected by city code enforcers. But who knows. I could be wrong. After all, I was a beer-swilling student once.
• One thing I don't think I'm wrong about is that everybody loves road construction. Based on the comments I hear, its popularity trails only Kansas basketball in this community. So, you'll love this: The Kansas River bridge project will be making an encore performance in 2012. Crews hired by the state (this isn't a city project) in late July started what they expected to be a 60-day project to resurface the two Kaw River bridges in downtown. Well, as of last week, it became apparent that 60 days was not going to be enough. The original plan was for crews to keep one lane of traffic open on each bridge during the course of the project. When crews repaired and resurfaced one lane, they would switch over to the other. But now there is a new plan. What I hear is that the amount of patching that was required on the bridge was more than expected. So, city leaders said they've been notified that KDOT has decided to put the project on hold for the winter once they complete the work that is underway. My understanding is that crews will be able to finish three of the four lanes by the end of this month. That will leave one lane to be done in 2012. What I've been told is that city officials asked the state to consider halting the project because there was concern that the bridge could be torn up and the weather would turn cold and make it difficult for crews to pour concrete for the project. City officials were nervous about the prospect of the bridge being torn up for long periods of time over the winter.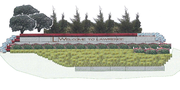 • So, what says Welcome to Lawrence better than road construction? How about a roundabout? How about a roundabout with a "Welcome to Lawrence" sign in the middle of it? How about two roundabouts with such signs? (See, I really am the Ron Popeil of the Lawrence Internet scene. Just when you think the deal can't get any better, it does. Oh, my wife just heard the name Ron Popeil. She is reaching for a credit card.) Well, city commissioners are set to put just such a deal in motion at their meeting tonight. Commissioners are scheduled to approve an agreement with the Kansas Turnpike Authority that will allow the city to install and maintain welcome signs in the two roundabouts that are part of the new turnpike interchanges leading into town. (West Lawrence and East Lawrence, which of course is in North Lawrence.) The agreement gives the city the right to install and maintain the signs, but it doesn't create a firm timeline for the signs to be built. Instead, it estimates the projects would be completed over the next two years as funding and staffing allows. The city estimates each sign will cost $20,000 to $25,000 to install. (But wait, if you order now, we can throw in a 30-day supply of roundabout jokes for free. Shipping and handling not included.)
Copyright 2018 The Lawrence Journal-World. All rights reserved. This material may not be published, broadcast, rewritten or redistributed. We strive to uphold our values for every story published.