Kansas City, Mo. — Police were combing nearby woods Tuesday as the search continued for a 10-month-old girl who was presumably abducted overnight from her Kansas City home by an intruder who climbed through a bedroom window, authorities said.
At a news conference Tuesday afternoon, police Capt. Steve Young said Lisa Irwin's parents have been cooperative as the search by more than 100 officers spread from the family's house to a nearby wooded area. Young also said there's no indication that some type of domestic or relationship dispute is involved.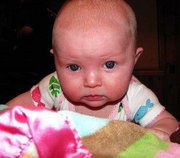 Lisa Irwin was last seen in her crib about 10:30 p.m. Monday. Kansas City police spokesman Darin Snapp said Lisa's father, an electrician, discovered she was missing around 3:30 a.m. when he returned home from work. Snapp said the mother was home at the time, and police issued an Amber Alert a few hours later.
Two young brothers also were at home in a separate bedroom, Young said, but were unharmed.
As of mid-afternoon, investigators were still following up on leads, but hadn't found any sign of the girl.
"Originally there was a window on the front of the house that appeared to be tampered with, that's something they were looking at, but we're not really sure if that's the entry point or not," Young said. "That's just a detail. The main point is there is a 10-month-old who isn't where she belongs and we're trying to find that child."
Young said a woman had told police a man had been seen overnight carrying a baby up the street, but he didn't know if anything had come of that.
"I do know that somebody did contact us and say late last night, early this morning, she did see somebody walking down the street with a baby," he said. "That is something we've looked into. I don't know if it's necessarily led anywhere, and by all means if anybody does have information that would parlay off of that, we would encourage them to call the TIPS Hotline."
Crime scene tape was still stretched around the front yard of the girl's home, a light-green ranch-style dwelling in a quiet neighborhood on a winding road on the northeast side of the city, at 3 p.m. Tuesday.
Several police cars lined the street in front of the house, where an officer kept guard as a steady stream of traffic slowly navigated past and neighbors sat in lawn chairs watching. Overhead, at least one television news helicopter hovered overhead while at least four news trucks with extended satellite antennas sat a block away.
"We are interviewing everyone involved," Snapp said. "There is evidence leading us to believe the child was abducted from her crib. The window to her bedroom, it appears someone could have abducted her. We don't have any witnesses."
The front windows of the house — one large one on the left side decorated with Halloween decorations, and a smaller one on the right with no signs of curtains or a screen — are easily accessible from the ground. A large deck is attached to the rear of the home, which has a fenced-in backyard, while an All Current Electric LLC van sat in the front driveway.
Lisa has blue eyes and blond hair. She is 30 inches tall and weighs between 26 and 30 pounds. Police say she has two bottom teeth, a small bug bite under her left ear and a beauty mark on her right thigh. She also has a cold with a cough.
She was wearing purple shorts and a purple shirt with white kittens on it.
Anyone with information is asked to call the TIPS Hotline, 816-474-8477.
"We're just hoping the child is safe somewhere," Snapp said.
Copyright 2018 The Associated Press. All rights reserved. This material may not be published, broadcast, rewritten or redistributed. We strive to uphold our values for every story published.