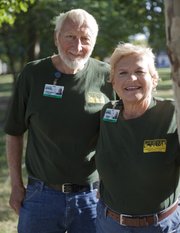 If disaster ever strikes Douglas County, whether it's a Joplin-like tornado, an outbreak of a deadly contagious disease or a hazardous material contamination, count on Perry residents Paula Hladky and Willard Epling to launch into action, working to save lives.
Hladky and Epling are trained Douglas County Emergency Management volunteers and have an arsenal of skills they can put to work, from rescuing victims to organizing spontaneous volunteers.
"If they are out there first, they can do things like basic first aid and basic fire suppression, which frees up the first responders who need to help those who are in more critical situations," said Teri Smith, director of Douglas County Emergency Management. "That's why they are so important."
Smith is amazed by the time and passion Hladky and Epling have poured into Douglas County Emergency Management, serving as Community Emergency Response Team instructors, helping with emergency preparedness fairs and much more. Smith nominated them for the United Way Roger Hill Volunteer Center's 2010 Wallace Galluzzi Outstanding Volunteer Award.
When Hladky and Epling retired in 2009 from the Perry-Lecompton school district, they simply switched from holding paid positions to serving in volunteer staff roles for nonprofits, which are now shorthanded because of budget-related staff reductions.

"There are so many requests for positions that have been eliminated due to budgets—now more than ever," Hladky said. "There is a volunteer job for everyone who wants to do something. There is so much need in our world."
For groups like Douglas County Emergency Management, having volunteers take on key roles is a lifesaver. "We were stressed on staff resources, and Paula and Willard said, 'Tell us what you need and we will do it.' They took it upon themselves," Smith said. "We could call them at any time and ask them for help, and they would do anything. They would give you the shirts off their backs. But it's not about them; they truly want this community to be one they are proud of."
Hladky and Epling also volunteer for the Medical Reserve Corps, Keep America Beautiful, the American Cancer Society, Perry United Methodist Church and Meals on Wheels.
The benefits of volunteering far outweigh the work demands, they say.
"It's addicting," Hladky said. "We have met so many great people. It's a great way to spend your time."
Douglas County Emergency Management is always looking for volunteers to join its Community Emergency Response Team. For information on upcoming training sessions or other volunteer opportunities, contact Smith at (785) 838-2460 or tsmith@douglas-county.com.
Copyright 2018 The Lawrence Journal-World. All rights reserved. This material may not be published, broadcast, rewritten or redistributed. We strive to uphold our values for every story published.