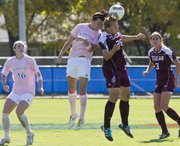 Texas A&M; and its nation's-best offense upended Kansas University, 3-0, in Big 12 soccer on Sunday at the Jayhawk Soccer Complex.
No. 24-ranked Texas A&M; improved to 9-5 overall, 3-1 in the Big 12. KU fell to 8-5 and 1-2.
Junior Whitney Berry and freshman Jamie Fletcher led Kansas with four shots apiece. As a team, KU tallied 16 shots, just shy of TAMU's total of 20. Texas A&M; leads the Big 12 averaging nearly 23 shots per game.
The Aggies first scored in the ninth minute when Merritt Mathias sent a low shot into the opposite corner from about 15 yards out. TAMU would strike again in the first half during the 33rd minute as Allie Bailey was on the other end of a pass across the goal mouth to score from close range.
KU's defense limited Texas A&M; to eight shots in the final 45 minutes.
Despite controlling the offensive advantage in the second half and putting four of its nine shots on goal, the Jayhawks still could not score.
Kansas will play host to Baylor on Friday, then travel Sunday to Creighton.
Copyright 2017 The Lawrence Journal-World. All rights reserved. This material may not be published, broadcast, rewritten or redistributed. We strive to uphold our values for every story published.