Photo Gallery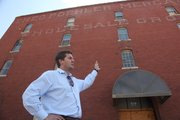 Poehler building
Developer Tony Krsnich plans to turn the old Poehler building in east Lawrence into about 50 apartments.
A bush that wants to be a tree blocks the stairs to one of the few doors left unboarded on this east Lawrence building.
High above it are three-foot-high letters that spell out "Theo. Poehler Mercantile Co. Wholesale Grocers." In a nod to a different era, the sign is most visible from the railroad tracks that sit just a few feet away.
But those letters are all faded. The ones that now stand out are of the spray paint variety — the ones that have made this building little more than a testament to the creativity of graffiti gangs. Something — an elephant, perhaps — stands at least six feet tall on one of the brick walls. It has a trunk, or, at least, let's hope that is a trunk. Other graffiti markings rise along a thin-railed, steel ladder that stretches to the very top of the old building — all four stories of it — just off the corner of Eighth and Delaware streets.
Yes, this is east Lawrence's skyscraper. And no, don't feel bad if you don't know a thing about it.
"I went to school here in Lawrence, and so did all of my team," said Tony Krsnich, a Kansas City developer who is finalizing a purchase of the building in order to undertake a $9 million renovation that will convert it into nearly 50 apartments. "And I didn't even know it existed."
It didn't used to be that way. At one time, this building and the activity that surrounded it was hard to miss. For a time, it was Lawrence's tallest symbol of a new age of prosperity.
"It was a major building one time, and it could be again," said John Pendleton, whose great-great-grandfather was the Theo. Poehler whose name fades a little more each day.
• • •
It was 1904, and Lawrence had been down on its luck for quite some time. Perhaps this sounds familiar, but there had been an economic crisis. The Panic of 1893 ushered in a decade of decline for American industry, and it certainly didn't spare Lawrence.
An East Coast conglomerate owned by some fellows named Carnegie and Morgan bought Lawrence's Consolidated Barb Wire Factory, the largest private employer in the state. By 1899, they did what conglomerates sometimes do: They closed the plant down. A few years earlier, the city had suffered another lesser-known but still serious economic setback. The Kansas River bridge for the Leavenworth, Lawrence and Galveston Railroad Co. was removed, depriving the city of one of its industrial calling cards.
So it is not hard to see why in 1904 the community took notice when construction began on a four-story brick warehouse on the former site of the Hauber Cooper Shop. The fact the Poehler name would be on the side of the building added to the excitement. Theodore Poehler Jr. was leading the project, but it likely was the memory of his father that led residents to be optimistic about the venture.
Theodore Poehler, who died on New Year's Eve of 1901, had reached near-titan status in Lawrence.
He came with the right pedigree for the job. His ancestral home in Germany had been granted to the family by a prince in feudal times to repay the family for military service "bravely rendered," according to a history of the family published in 1918. Poehler grew up the son of educators, but also with a grandfather who was a soldier under Napoleon.
But Poehler's interests turned to America at an early age. By the time he was 19, he was on a steamboat in the Mississippi River, traveling from New Orleans to Burlington, Iowa. There he became a supplier to the steamboats, and eventually ended up in the retail and wholesale grocery business.
By the end of the Civil War, Poehler was rich enough that he embarked on a "sightseeing expedition." The trip took him south to Kansas City, which he described as a "mud hole." But Lawrence, and the emphasis it placed on education, was a town he liked. He moved his family here, and by 1883 a business directory listed Poehler as having a wholesale grocery and grain elevator firm that employed 22 men and had annual revenues of about $200,000, or about $4.5 million today.
Poehler went on to become the treasurer of Douglas County and the mayor of Lawrence, for a short period of time. And the building that his son built, who died three years after it was completed, did go on to spark a renaissance of sorts.
"It really did become a very important area for Lawrence," said Lynn Zollner, the city's historic resources administrator, who worked on getting the area designated as the East Lawrence Industrial Historic District in 2007. "Lawrence really became kind of a center for food production for this region."
According to documents compiled as part of the historic district process, Douglas County's apple crop routinely produced more than 60,000 barrels of apples, and at various times four cider and vinegar plants operated simultaneously in Lawrence, with some of them also making pickles, ketchup, jellies and other products. Pendleton tells of how his family remembers the area being a hub for potatoes and peas and other produce that eventually led to the Pendletons opening up the Kaw Valley Cannery. It later became a cannery for the Stokely-Van Camp bean company.
"It was big business for Kansas and the whole area, for awhile," Pendleton said.
The Poehler Mercantile Co. became one of the largest grocery wholesalers in the region, using the city's railroad connections and easy access to fresh produce grown in the Kaw River valley, to become a major supplier for points west of here. The company later built a warehouse building of equal size in Emporia, and opened branches in Topeka and McPherson.
And it went on that way for a long time. But then it ended. As the 1960s approached, semi-trucks and interstates became even more important than railroads.
"The world just kind of changed," Pendleton said.
The Journal-World had written several articles about the Poehler Mercantile Co. over the years, but on May 17, 1957, the newspaper carried just a six-paragraph article announcing that the company was halting its operations. The reasons were left up to your imagination.
• • •
The Poehler building has been sparking the imagination of Krsnich since he first saw it a little more than a year ago.
"It does take a little bit of vision to look past the boarded up windows, but it is one hell of a building," Krsnich said.
Inside, it is one heck of a mess right now. Shards of glass crunch beneath your feet on many a step, and insulation and other ceiling material often dangles overhead.
But through it all, the potential is easy enough to see. Massive amounts of timber bless the building. A solid wooden beam of about 18 inches square runs down the center of the building and makes a man who buys lumber by the foot at a local home improvement store drool.
The ceilings on the ground floor are 12 feet tall, and some still have old pressed tin. Krsnich talks about how the wooden beams will be sandblasted and taken back to their natural state, how tin ceilings will be replaced, and how the building's signature bay windows will be restored.
"This is going to be someone's apartment," Krsnich said, standing in the light of a window that is at least 10 feet tall.
Plans call for the Poehler building to become 49 apartments, all but three of them rent-controlled units — a requirement for the project that is receiving state tax credits. Krsnich's group also has purchased the nearby Kansas Fruit Vinegar Company building, or the Cider Vinegar Building as it has been known. As previously reported, Krsnich plans to convert that building into 30 to 40 small artists studios. The space also would include a gallery and an outdoor reception area. The entire project currently is going through the zoning process and eventually will seek incentives through the Neighborhood Revitalization Act and other city programs.
"We believe we're going to create something that Lawrence hasn't seen before," Krsnich said.
And in the process, Krsnich hopes the project will help Lawrence see what it used to be.
"I think it will be impossible for people to drive by here when we are done and not want to become educated about what Lawrence used to be," Krsnich said. "I just think this whole district is an untapped resource.
"I think this will be an attraction not only in Lawrence, but hopefully for the Midwest. People will want to be here."
Again.
Copyright 2018 The Lawrence Journal-World. All rights reserved. This material may not be published, broadcast, rewritten or redistributed. We strive to uphold our values for every story published.