Photo Gallery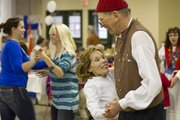 2011 Nordic Heritage Festival
A Viking longship deserves a good name, explained "Viking Sam" Raedahl at Saturday's 10th annual Nordic Heritage Festival at the Douglas County Fairgrounds, 2120 Harper St.
That's why Raedahl named the his Viking ship, on display Saturday, "Yrsa."
Yrsa, you see, was a tough, bold woman from Scandinavian lore. Mistreated by her husband, Yrsa formed an army and out-battled her own husband's warriors.
"Kicked him out of the country," Raedahl told onlookers.
Yrsa and Raedahl were just a few of the attractions at the event celebrating everything Nordic, which includes the countries of Sweden, Denmark, Norway, Finland and Iceland.
"We want to share our Scandinavian culture and history," said Marilyn Myers, event organizer.
Families toured booths, which featured everything from krumkakes to Nordic art, with a few umlauts mixed in.
What exactly is Nordic art? Well, just about anything infused with a Nordic twist.
Over at Ron Scherer's table, the Nortonville man showed off his "chip carving" woodwork. Scherer explained the Nordic heritage of his chip-carved sleds, which he said were popular in Nordic homes as decorations.
And then there was Lawrence woman Theresa Martin, playing Swedish music with her nyckelharpa, which looks like a low-tech, finely crafted hybrid of a harp and a keyboard.
Martin is a member of the local Swedish dance band "Ingevalds Spelmän."
"We absolutely love this music," Martin said.
Giving area residents a chance to experience such unique sounds, tastes and sights was what Nordicfest is all about, said organizer Myers.
"Just a good time," she said. "And learn more about Nordic heritage."
Copyright 2018 The Lawrence Journal-World. All rights reserved. This material may not be published, broadcast, rewritten or redistributed. We strive to uphold our values for every story published.