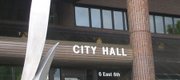 Subscribe to the email edition of Town Talk and we'll deliver you the latest city news and notes every weekday at noon.
News and notes from around town:
• Holy huevos, mi amigos. It sure looks like Lawrence is becoming part of the Salsa Economy. (Yes, I just made up two phrases there, including the Spanglish equivalent of Holy Eggs.) But the point is, there's another Mexican restaurant coming to Lawrence. This time South Lawrence is the target area. The former Backyard Burger, 2351 W. 31st St., has been leased to a Mexican restaurant based in Paola.
El Potro Mexican Cafe has plans to open in early 2012 in the former fast-food location, an employee at the restaurant confirmed. El Potro currently just has the one location in Paola, which is a Miami County community just south of Kansas City. I'm told, however, that the restaurant has become a bit of a destination dining location for Mexican food aficionados in the area. Kelvin Heck, a broker with the Lawrence office of Colliers International and an agent on the deal, said his understanding is the company wants to see how its concept competes in a larger market. The restaurant certainly will get a workout in the competition area.
Among some of the new or planned Mexican restaurants that I can think of are: the downtown restaurant opened by the Tortas Jaliscos folks; Fuzzy's Tacos at 11th and Mass.; Tapas, a Mexican/Spanish restaurant planned for the former Jo Shmos spot in downtown; and a little less recently Esquina, the upscale taco joint on Massachusetts Street. It is quite a trend that leaves me with just one pressing question: How did that salsa get on my shirt?
• Speaking of restaurants south of here that are trying to tap into the Lawrence market, there's a relatively new one in Baldwin City. Feaster's Bistro has been open for several weeks near Sixth and Ames Street in Baldwin. The restaurant may be in Baldwin but it certainly is trying to become a destination restaurant with a "farm to table" type of concept. Owners Chris Feaster and Maggie Beedles — they used to operate a mobile kitchen at the Lawrence's Farmers Market — have built a menu around local meats and produce. Much of the menu is comfort food — like chicken fried steak and chicken fried chicken — but made with locally-raised meats. There also are some twists like Elk Meatloaf from Rocky Hills Elk Ranch in Winchester, served with potatoes and a blackberry-stout gravy. According to the menu, other local producers that have partnered with the restaurant include bread from Great Harvest, beef from M&J; Ranch, goat cheese from Linderia Farms, and chicken from Clark Family Farms.
• While we're on the subject of being green, there's a new report out of City Hall that provides an update on how the city is doing in reducing its greenhouse gas emissions. A report by the city's Sustainability Advisory Board says Lawrence city government operations have reduced their green house gas admissions by about 8 percent since 2008. City operations are producing about 2,600 fewer tons of green house gas emissions. That's the equivalent of taking about 460 cars off the road or having about 60,000 additional trees sequestering carbon. The city has computer program it uses to calculate such things. Some of the initiatives that have led to reduced green house gas emissions include: a city policy that prohibits long-term idling of city vehicles; more efficient routes for the trash and transit departments; and energy audits of city buildings that have resulted in less energy usage.
The above numbers don't include the amount of electricity that regular citizens saved by taking part in the Take Charge Challenge competition with Manhattan. The city is estimating that residents saved $155,000 by taking part in energy audits, changing to more efficient light bulbs and other such measures. The program is estimated to have saved 20,800 MMBTU. (Yeah, I have no idea what that means.) But the city says the amount of energy saved is equivalent to taking 825 cars off the road or 525 houses off the power grid.
All those numbers are nice, but city and county commissioners will have a much rounder number to consider this summer: $90,000. That's how much it is costing the city and the county combined to fund the city-county sustainability coordinator position. The city and county approved the new position in 2009, and the city used $100,000 in federal stimulus dollars to initially fund the program, and the county at that time agreed to then fund the position through 2012. That means this summer, as the city and county approve their 2013 budgets, commissioners will have to decide whether to keep funding the position. City Manager David Corliss said the position with salary, benefits and office expenses comes to about $90,000. A funding split of 60 percent being funded by the county and 40 percent being funded by the city has been proposed. Here's guessing that the current commissions will be receptive to keeping the position, which currently is filled by Eileen Horn. But you never know what a budget discussion will bring. Already, groups are starting to make the case for the position. The Sustainability Advisory Board has listed keeping the position as its top goal in continuing to reduce greenhouse gas emissions.
Copyright 2018 The Lawrence Journal-World. All rights reserved. This material may not be published, broadcast, rewritten or redistributed. We strive to uphold our values for every story published.