Photo Gallery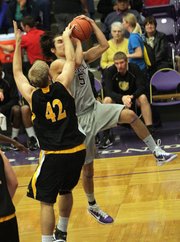 Haskell men, women's basketball vs. Ottawa
Haskell men's and women's basketball against Ottawa on Monday, Nov. 28, 2011.
Conditioning has been an issue for the Haskell Indian Nations University women's basketball team.
So coach Shane Flanagan made sure his team ran over the holiday break. Hard.
"We definitely ran off our Thanksgiving dinner," senior Kayla Davis said.
That time in the gym turned into a 60-47 victory against visiting Ottawa on Monday night at Coffin Complex.
The Indians took control from the beginning.
Senior Lois Stevens, who had a game-high 23 points and nine rebounds, said HINU had a more aggressive approach to the game.
"What did coach say?" she joked with her teammates after the game. "If we don't play hard, he'll run us until we do?"
It has been a bumpy ride this season with the players getting used to Flanagan's way of coaching. The biggest issue has been defense, but Haskell held Ottawa to 27.6 percent shooting. Flanagan admits he deviated from his usually defensive-minded approach, but the players seem to be getting back to basics.
"With the change in the coach and the change in the program, it's been more offensive," Davis, who had 13 points and nine rebounds, said. "We've forgotten our fundamentals in defense, and I think now we're starting to put it all together."
The Indians (4-8) have won all their games at home but are winless on the road.
Senior Nataska Rouse said it's all mental. Mainly, it comes down to fan support.
"On the away, you get the one or two that are there," she said about the amount of fans. "It doesn't really pump us up as much."
Ottawa men 87, Haskell 77
Every time Haskell drew close to Ottawa, something went wrong.
"They wanted to win more than we did," HINU coach Chad Kills Crow said. "Bottom line."
Haskell started the game in a 6-0 hole, and senior Brady Fairbanks and junior Jonn Garrick were both in early foul trouble.
Ottawa scored a quick layup just before halftime to sustain a five-point lead, and it swelled to 19 in the second half.
"That was mostly our fault," junior Zach Eastman said. "We couldn't get a lot of contested shots, and when they did miss, they got a lot of rebounds."
Each team had three players in double figures, but the Ottawa duo of Corey Smith and Larry Barber combined for 47 points. Haskell's Luke Lee and Trey Osborne tried to keep pace with 15 and 20.
As big as the Braves' lead was, the Indians had a chance with just under five minutes left when they cut the deficit to three. Ottawa then stole a pass for a layup, and Fairbanks had a block called for a foul, which he argued into a technical. In just a couple of sequences, the comeback was squelched.
Even if some of the fouls were questionable, Kills Crow said his team showed a lack of maturity responding to the obstacles.
"It's going to humble our guys a little bit and a little bit of reality sets in that everybody comes to play," Kills Crow said.
The Indians (6-5) had won six out of seven coming in, and it was new territory for Haskell to be in such a position.
"It's new to these guys to have a little bit of success," he said. "We haven't been in a game where we've had to crawl back the whole entire game."
Copyright 2018 The Lawrence Journal-World. All rights reserved. This material may not be published, broadcast, rewritten or redistributed. We strive to uphold our values for every story published.