A detective with the Topeka Police Department's Special Victim's Unit said he's been in contact with a California scientist who might hold the clue to a decades-old unsolved rape case.
Joe Jones was the first person in the state to be exonerated of a crime by DNA evidence, but life after prison has been difficult.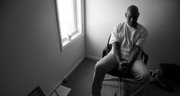 -->
-->
"We will proceed with it full force," said Detective Adam Arensdorf, who's been assigned to follow up on DNA evidence, stored in a cooler since 1992, that cleared Topeka man Joe Jones of a 1985 rape. Arensdorf said the case was reopened following a Lawrence Journal-World investigation that identified the existence of the DNA as part of a special feature on Jones' case.
Jones was exonerated by the DNA in 1992, but no one else was ever arrested for the crime.
The DNA might still be testable and could potentially identify the real rapist once it's entered in a national DNA database, which didn't exist in 1992, Arensdorf said.
It's not yet clear how much DNA evidence is still in the possession of Ed Blake, the scientist who originally tested the evidence and testified at the hearing that freed Jones. Blake tested the original material, froze and kept some remnant extract, then sent the original material, which hasn't been located, back to the Topeka Police. Blake said that he thinks he might have enough of the remnant material to test the DNA and obtain a match using today's more advanced technology. The 1992 testing excluded Jones as the rapist, but, at the time, limits in the emerging DNA technology could not have positively identified a suspect.
In the coming weeks, Arensdorf said, the department should have updates on how it plans to pursue the case.
Though the five-year statute of limitations for prosecution of rape cases in Kansas has long passed, Kansas law allows for prosecution of rape and murder cases for up to one year after DNA evidence has identified a suspect.
Copyright 2018 The Lawrence Journal-World. All rights reserved. This material may not be published, broadcast, rewritten or redistributed. We strive to uphold our values for every story published.