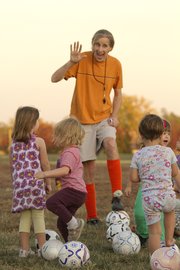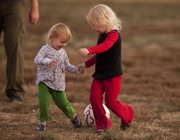 Undoing the work of imaginary pirates is not your typical soccer drill. Neither is practicing the technique of goal celebration.
However, Dan Spurgin, coach of the Mighty Lions, is not working with your typical soccer team. The Mighty Lions is made up of children between the ages of 2 and 4.
Spurgin said the Mighty Lions soccer team is more precisely described as a glorified play group with a soccer focus. Spurgin started the group earlier this year and voluntarily led practices for Lawrence toddlers and their parents every Monday evening from August to October this fall at Holcom Park.
The inspiration for the group came from an email circulated among local parents describing a private soccer clinic for 2- to 4-year-olds offered by a company out of Kansas City, Spurgin said.
"They were asking kind of a ridiculous amount of money," said Spurgin, who has a 2-year-old son, Nathan. "I said to myself, 'Hey, that's something I know a lot about: soccer and 2-year-olds.'"
Spurgin decided to provide an alternative to the clinic for Lawrence parents that was both free and in a relaxed atmosphere.
"I sent out an email saying, 'We'll be on this patch of grass on this day at this time, whoever wants some instruction can come,'" Spurgin said.
For the first practice, Spurgin said about eight or nine families showed up. Via word of mouth, the group grew gradually each week to ultimately include about 25 families.
Lydia León, who took part in the original email exchange regarding the private clinic out of Kansas City, said Spurgin's noncompetitive and loosely structured approach to soccer with this age group is more in line with what she wants for her 2-year-old daughter, Alia.
"The point is to have that interface with soccer in a playful, fun, totally unstressful situation," she said.
Spurgin said the main rule at his soccer practices is that the kids are never allowed to touch the ball with their hands. He playfully instills this rule by occasionally asking the children to pick up their balls. He said that usually about half the kids will obediently pick their ball up, while the other half will call him out on his trick.
Spurgin also said that, provided they aren't harming anyone, nobody gets in trouble at his soccer practices.
"If a kid wanted to wander off, well then they'd wander off," he said.
Spurgin described an opening drill where he told the assembled toddlers that practice could not occur because pirates had stolen all the soccer balls. When players pointed out to Spurgin that the balls were actually spread out in the field behind him, Spurgin would look, but pretend not to see them. The kids ultimately raced out to retrieve the balls. He said the older kids would bring back three or four balls, while the 2-year-olds might get only one, but that everyone got to the chance to kick a ball.
"All drills are structured so that everyone can get something out of it," Spurgin said.
Erin Besson, whose 3 ½-year-old twin daughters, Sidra and Ginny, participated in the Mighty Lions, said she liked that the atmosphere of the group was fun and inclusive. She said Sidra's favorite game was the "monster game," which involved parents acting like monsters and kids trying to keep the ball away from them. Ginny liked the "kick the coach" game, where the children tried to kick the ball into Spurgin. When they succeeded, Spurgin had to make an animal noise of the team's choice, which more often than not was a giraffe.
"Dan is amazing with the kids," Besson said. "He gets down on their level. He's like a kid himself, really."
León and Besson both said that in addition to being a fun activity for the kids, the Mighty Lions was a great opportunity for parents to meet other families and to spend time together as a community. Spurgin echoed this sentiment.
"It turned out to be a beautiful little thing for Lawrence families," Spurgin said. "I love the joy aspect and I love the soccer aspect."
Spurgin said that he hopes to get the Mighty Lions together again in the spring, and that there is also an interest from parents in finding an indoor space this winter that would work for an occasional indoor get-together.
Interested parents can reach Spurgin at dan@hype7.com.
Copyright 2018 The Lawrence Journal-World. All rights reserved. This material may not be published, broadcast, rewritten or redistributed. We strive to uphold our values for every story published.