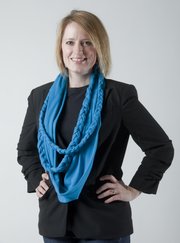 Tiffany Classen greeted me at her door wearing a slouchy, gray, off-the-shoulder sweater paired with black leggings, tall black boots and a long, silver-beaded necklace. As I walked into her house, I spotted a Christmas tree, already up in mid-November.
"I put it up for my 'A Lady With a Baby' holiday open house a couple weeks ago," she explained as she gestured toward a cooling rack full of freshly baked chocolate chip cookies in the kitchen.
After playing a quick game of hide-and-seek with her 2-year-old son — the kitchen pantry as the one and only hiding spot — we each ate a cookie as we chatted about all things style, business and church.
"I started this business, 'A Lady With a Baby,' to help keep me at home with my son instead of going back to work," she said.
Classen began by selling homemade bibs to friends with babies. She then expanded her offerings to include aprons, cloth napkins, wreaths, pillows and scarves, among other items, and posted them on Etsy. The word about Classen's business caught on, and now her items are featured in seven retail stores throughout Kansas.
"I like to reuse and repurpose, to mix old and new, raw and classic. And I hate to make the same thing twice. I get bored easily," Classen said.
However, getting bored with things other than twice-used fabrics and identical pillows hasn't been an option for Classen as of late.
Two years ago, she uprooted her life in Seattle to move back to her home state. It wasn't an amazing job offer that brought her back, nor did she move back because of the temperate climate or unique cuisine. She moved to Lawrence for a church — a church that didn't even exist yet.
"I loved the honesty of our church, Eastlake, in Seattle. We moved back to Kansas to try to find people who understood the vision. We weren't completely sure what we were doing or what was going to happen, but we went forth with confidence that we could pull this off," Classen said.
And pull it off they did. Two years after starting Eastlake Community Church in Lawrence, which meets at South Middle School, 2734 La., church attendance floats around 500 people each Sunday, and approximately 250 Eastlake-goers are involved in "growth groups," small groups that meet once per week over the span of approximately two months. All groups — whether focused on rock climbing, knitting, reading or simply hanging out — complete a community service project.
"We started this church because we love Lawrence. We have an emphasis on community service because it's important to be engaged in the community," she said.
While Classen hopes that her business and church will in some way inspire the Lawrence community, she also admits that Lawrence has influenced her, especially her style.
"I feel like I can wear whatever I want and fit into the Lawrence scene. There is definitely less brand pressure living here," she said.
Copyright 2017 The Lawrence Journal-World. All rights reserved. This material may not be published, broadcast, rewritten or redistributed. We strive to uphold our values for every story published.