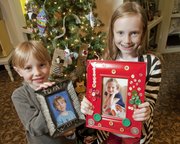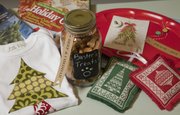 Chocolate truffle almonds
4 cups whole natural almonds
1/2 cup sugar
1/4 cup honey
1/4 cup water
2 teaspoons vegetable oil
12 ounces dark chocolate, melted
2-3 cups powdered sugar or cocoa powder for rolling
Line a baking sheet with foil and spread the almonds on it. Place in a cold oven, set the temperature to 350, and bake the almonds for 15 minutes. Measure the sugar and set aside.
Combine the honey, water and oil in a wide, shallow saucepan and slowly bring to a boil. Stir in the hot almonds and cook over medium heat, stirring constantly, until all the liquid has been absorbed. This stage is very important — if you leave the almonds too wet they will be sticky and gummy rather than crisp.
Spray the foil with a light film of pan spray, and turn the almonds back on to the tray. Spread them out into an even single layer, and sprinkle all of the sugar over them. Use a rubber spatula to turn and toss them until all the loose sugar has coated the almonds.
Bake the almonds for about 20 minutes. They will be golden brown and caramelized, and when they are completely cool, break up any clumps.
Place pan in the freezer while preparing the chocolate coating.
While the nuts are cooling, melt your chocolate. Place the chilled, separated nuts in a very large bowl and have the powdered sugar handy.
Add about a third of the chocolate to the nuts and immediately fold with a large rubber spatula until the nuts are completely coated. Add another third of the chocolate and repeat the process. Finish with the remaining chocolate. Make sure all the nuts are well-coated and separated. Add powdered sugar to the bowl and continue tossing until well-coated.
These can be stored at cool room temperature in an airtight container. They are great for holiday goody bags and hostess gifts. Makes about 6 cups.
— Recipe from Nancy Stark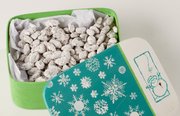 Caryl Hale's favorite gift from last Christmas? Something special from her husband, Aaron, of course.
If visions of diamonds or iPads or high-end cars adorned with bows are dancing in your sweet little head, you're wrong. Though the Lawrence mom did gasp with surprise and delight when she laid eyes on her gift: A homemade necklace holder.
"It was very simple, but for me, receiving it from him, it had such a huge meaning for me. I could hear him out there working in the garage. He would say, 'You can't come out!' Or he would cover it up. So there was this anticipation of 'What is he making? What is it this year?'" Hale says. "It's the same as when kids make you gifts — when they make you a little paper ornament, there's a meaning as a mom and you want to hold onto it. I think that's the same way for me — whomever makes me a gift, I feel that. … It has a deep, sentimental meaning to me."
This year, the Hales are trying make all their gifts by hand. Family, friends, even the couple's three children — everyone gets something made with a bit of elbow grease. It's an idea the couple had been playing with for a few years, but they'd never done things strictly handmade before this year.
If you're thinking of making this year a handmade Christmas (partly or whole), know you've got plenty of options for gifts. Whether you're looking for edible, crafty or practical gifts, there's a little something for everyone. And every one is customizable to anyone on your holiday list.
Food gifts
Nancy Stark would rather no one ever "have" to run to the store to buy her a present. Thus, she practices what she preaches by hand-making all of the gifts she gives friends and family. And when she thinks of "homemade," the Kansas City chef naturally thinks of edible gifts.
"I've been making my own gifts forever. I'm very challenged by shopping. I don't like buying things for people just because I'm supposed to," she says with a laugh. "So I have always made my own gifts. It's sort of evolved over the years. I'm happy to spend hours in the kitchen making stuff for people. I mean, I think that's a reasonable trade for spending hours out at the mall."
Among her own personal favorites and suggestions she gave her students in her "Make-Your-Own Gifts from the Kitchen" class earlier this month at The Merc, 901 Iowa? Gifts both pre-made and kits with recipes:
A plate of prepared tamales (a traditional Christmas dish in Mexico)
Tamales recipe and select ingredients plus a nice pot
Chocolate Truffle Almonds or other homemade nuts
A breakfast gift, complete with German stollen or Irish soda bread
The Christmas gift staple: cookies
Candied citrus peel
Jams and jellies
Sauces and stews
Dry ingredients and a recipe
Stark adds that any food gift is customizable, and you don't need to crank out thousands of the same thing.
"You can just whip together something for those people who you forgot about," she says, adding she makes uniform label tags to use for each gift, big or small. "But then if you have people who are more special to you, you can just keep piling on the accessories and make the gift totally over the top if you want to but using the same pieces and parts."
Crafty gifts
Jennifer Richards, co-owner and buyer at Made, 737 Mass., says making a project out of your presents list is one of the best ways to really personalize the holidays. She says she's always browsing craft magazines and websites like Etsy.com for ideas on what to do or how to tweak craft projects of holidays past.
"It seems like every magazine I pick up, there's tons of ideas for things you can make," Richards says, adding her children love to make gifts as well. Among the projects she recommends considering:
Cross-stitch ornaments
Handmade wreaths from yarn, felt or ornaments
Picture frames dressed with paint and buttons (an especially good project for children)
Anything felt (especially garlands or ornaments)
Holders for store-bought presents
She says many of these projects can be done inexpensively and without equipment like a sewing machine — cross-stitch or felt items being high on her list. Cross-stitch patterns can be easy for even newbies. As for felt, no stitching is needed — fabric glue works just fine.
Not sure you want to give "only" something homemade, or dealing with someone who is hoping for something specific? Richards really likes the idea of making something to hold your gift, like a little stocking.
"If they made the stocking and then tucked a little pair of earrings or even a gift card or something in the little stocking, that would be nice," Richards says. "Kids can be very particular with the things they want for Christmas. If it's a particular toy (they desire), you can put it in your own handmade container — to kind of put the personal touch on things you've bought."
Around-the-house gifts
Hale says this year, nearly everyone on her list will be getting a homemade body care item. She's been experimenting with gifts suitable for women, men or both:
Body butter
Lip balm
Shaving soap
Body soap
Perfume
Earring holder
Necklace holder
Upcycle and refurbish a toy
Coasters
Hale admits the hardest people to create gifts for are her children — one in junior high and two preschool age. She says, though, that just like listening to them moon over a popular toy, she has figured out their gifts based on what makes each child light up.
"Our older daughter, she has seen me make the lip balm, and so the beauty products, she is very excited about that," Hale says. "I think for children, if you have in mind and what they're interested in, I think you can kind of cater it to them. Something where it's not, 'Oh, thanks for this wool sock' or something that they wouldn't perceive as too exciting. I'm optimistic about it — we'll see when they open them up."
Hale says though she knows she's taking a bit of a gamble by going handmade with her kids, she's hoping that they see the value in their gifts just like she does every time she takes a piece of jewelry off her necklace holder or laces up shoes stored on her shoe rack, another homemade gift from her husband.
"There's definitely something about receiving something handmade that even though it has a very simple purpose, when it's given to you by someone who made it and spent time on it," Hale says. "It carries much more meaning than just holding your shoes."
Copyright 2018 The Lawrence Journal-World. All rights reserved. This material may not be published, broadcast, rewritten or redistributed. We strive to uphold our values for every story published.