The "founding mothers" started it as a venue for swapping handmade goods and showing off artwork that just didn't quite fit into the established scene.
Now hundreds of mothers, fathers, brothers, cousins — you name it — enjoy its quirky crafts and artwork every year. It's the Bizarre Bazaar, started in the late 1980s and now held Thanksgiving weekend at the Lawrence Arts Center, 940 N.H.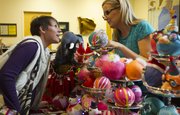 On the street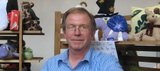 We've done craft shows for almost 30 years and this one for several. This year we got a great location.
Van GO celebrates youths' work
Arts sales were also thriving at Van Go Mobile Arts Inc., 715 N.J. The arts-based social services group held its annual adornment sale and silent auction Saturday night.
The sale raised funds for the group, which gives high-needs youths ages 14 to 21 access to social workers and art supplies.
The annual sale is also a celebration for the kids who have just completed an eight-week "job training" art program.
Lindsey Griffen, a student at Lawrence High School, said Van Go had helped her to manage stress and depression. She said the sale gave her a feeling of confidence.
"It feels so awesome that a person other than your parents would want your art," she said.
Cathy Ledeker, art director at Van Go, agreed.
"It's like the cherry on top of the experience," she said.
Organizer Marsene Feldt said 148 artists signed up to participate this year, the most that ever have. This was the first year the BizBaz, as it's known, coordinated with Final Fridays for a two-day event. Feldt said 650 attendees had been counted in the first two hours of its Friday night opening and similar, if not bigger, crowds were expected throughout Saturday.
Popular among the vendors, a trend in handmade art called upcycling, or using recycled materials, was on display this year.
Michelle McCormick is one of five Topeka women who go by the moniker "the Craftivists." Their sassy mix of DIY art and environmental activism started years ago after they began making pendants as part of their "girls' night." Now they produce buttons, jewelry from recycled materials and wall hangings from old window frames.
"One of us makes buttons, one makes windows, but no matter what, we want to be promoting social causes," she said. "We each have different skill sets, but we're joined through activism — that and we like each other, I guess."
Donna English is also a crafty recycler. She and her sister make and sell bags from interior decorating fabric and dry-food bags that are due to be thrown away. She said they started about four years ago when she realized she ought to somehow reuse all the rice bags going through her sister's restaurant. Now she gets supplies from businesses across Kansas City — enough to make hundreds of bags every year.
"You'd be surprised how much there is out there for free or a really reduced price if you just ask," she said. "They don't look at it as being pretty, but I can take it and make it into something pretty."
English said that her aesthetic came from growing up "in the generation that first cared about the environment" and that reusing and repurposing fabric was a trend in crafting but an age-old practice.
More stories from vendors:
Gwen-Renee Green got into jewelry-making through beading and then stumbled "through trial and error" into silver and copper work. This was her fifth year at BizBaz, and she used to do as many as 20 craft fairs per year. But since 2008, she said, the travel expenses are just too high. She's from Kansas City, Mo., though, and appreciates Lawrence fairs as a closer alternative.
Bernice Dennis traveled from Oklahoma City for the fair but says she probably won't again. She makes dresses for dolls, aprons and books made from fabric. The aprons and books did OK, she said, but there wasn't a customer base for the dresses.
Bud Herhuth served as support staff for his wife, Barbara Herhuth, who makes stuffed animals out of felt. She's been crafting for 30 years, he said, and often donates her animals to children with cancer.
Copyright 2018 The Lawrence Journal-World. All rights reserved. This material may not be published, broadcast, rewritten or redistributed. We strive to uphold our values for every story published.