Photo Gallery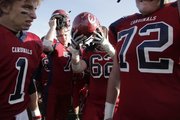 2011 4A state championship: Eudora vs. Rose Hill
In a game of field position and surviving the elements, Tyler Knight had the answer.
Knight grabbed a fumble out of the air and returned it 66 yards for a touchdown to give Rose Hill momentum, and Rockets went on to win their first state championship — a 21-0 victory over Eudora in the Class 4A game at Salina Stadium on Saturday afternoon.
Knights' big play gave Rose Hill a 13-0 lead with 7:57 left in the third quarter and broke open a defensive struggle.
Rose Hill (13-1) finishes the season on a 13-game winning streak. The Rockets vanquished four perennial 4A powers — Holton, Andale, Ulysses and Topeka Hayden —in reaching their second-ever title game.
Eudora (12-2) was playing in its first state championship game.
"You feel like you've got a shot at 7-0," Eudora coach Gregg Webb said, "and then you fumble it right to them and they run it in. That just took the heart right out of us."
Eudora had the ball first-and-10 at the Rose Hill 32-yard line and Chris Pyle got the call to his right. In the middle of a scrum at the line of scrimmage the ball popped in the air to Knight, who was converging on the play from his linebacker position.
"I was just going where everyone else was going," Knight said. "I saw the ball in the air and took it and ran.
"The defense had to do what they had to."
Rose Hill's defense limited Eudora to 170 total yards on 53 plays for the day, including 103 yards rushing on 43 attempts.
Rose Hill coach Greg Slade credited his defensive coordinator Ray Boese.
"He saw some things he thought we could do and the kids did it well," Slade said. "Our kids played well on defense today. We knew it was going to be a great defensive battle today.
"It was a state championship game. You've got to take advantage of what you can get (turnovers)."
With the defenses in control, Eudora lost the ball on downs on each of its last three possessions — the last at the Rose Hill 1 as the Rockets preserved the shutout.
Rose Hill scored its last touchdown after Eudora gave the ball up on downs at midfield following Knights' play. Hunter Lewis, who finished with 63 yards rushing, scooted the 19 yards for the score with 1:33 left in the third quarter.
A strong northwest wind was a big factor all day.
"The opening flip of the coin was a huge, huge thing," Webb said.
Eudora had a chance at a big play on its first possession going into the wind when fullback Gabe Cleveland broke up the middle for a 9-yard gain only to be tripped by the last man between him and the goal at the 42. Cleveland fumbled on the next play and Knight recovered at the Eudora 29.
Two plays later, Derrick Decker threw a perfect strike to Caleb Braddy in the end zone. Knight's kick gave the Rockets a 7-0 lead and it stayed that way until Knights' fumble return.
Decker, a senior quarterback, was the offensive star for Rose Hill. He ran for 95 yards on 17 carries and was had 36 yards passing on two completions. The Rockets had 225 total yards.
Cleveland, a junior running back, led Eudora's effort with 46 yards rushing 16 carries. Derek Webb was 6 of 10 passing for 67 yards for the Cardinals.
Rose Hill's defense kept Eudora off balance with a blitz package.
"We did a terrible job of picking (the blitz) up," Webb said. "We knew that they did that some but not to that extent and I thought we would have handled a little better.
"Their defensive line had a lot to do with it because they were causing us some problems, too."
Copyright 2018 The Lawrence Journal-World. All rights reserved. This material may not be published, broadcast, rewritten or redistributed. We strive to uphold our values for every story published.