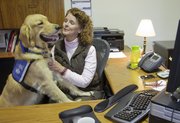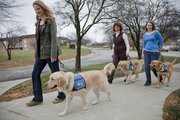 How to help
KSDS will host a fundraiser at Maceli's Banquet Hall and Catering, 1031 N.H., from 7 p.m. to 10 p.m. Jan. 28. There will be a silent auction and wine paired with desserts and appetizers. Tickets are $35 in advance or $40 at the door. Proceeds go toward training and matching assistance dogs with people who need them, a service KSDS estimates costs more than $20,000 per dog. Visit ksds.org/donors/cabernet.html for more information or call 785-324-2256 to reserve your seat.
On an afternoon at the beginning of the month, Peggy Mersmann-Laptad was doing what she'd been doing for weeks. She was cleaning up the tons of rubble that used to be her home and occasionally finding items that survived the blaze.
Her three dogs, Alaskan malamutes who look closer to wolves than dogs, watched from behind the fenced enclosures they spend most of their time in now that she has no home for them.
"This has been in my family for 150-plus years," she said of her land, which is in North Lawrence. "This has always been the one stable factor in my life."
The fire destroyed almost every possession she held dear, things like the maple coffee table her grandfather made from a tree grown on the land and Christmas ornaments passed down from her great-grandmother. She keeps reminding herself that the things that really matter were spared.
On Sept. 29, the morning of the fire, Mersmann-Laptad was at work, and her boyfriend, Julian Dahl, was asleep in the house. Two of the dogs saw the flames, and their barking ended up saving Dahl's life, as he woke in time to escape.
"I probably would have lost all of them (if the dogs didn't alert Dahl). I don't think I could have taken that blow," Mersmann-Laptad said.
By Mersmann-Laptad's count, the fire is the third time the dogs have come to the rescue. She got them shortly after her father's death, and they helped her survive the grief.
"They brought the light back to me," she said.
Research has shown what pet owners have known for centuries, that being with animals is good for us. Petting a dog can lower blood pressure. Leaving a child struggling with a stutter with an animal can help him or her speak more naturally.
They can be the difference between living a fulfilling life and merely living.
Beyond best friend
Gary Dodd of Ottawa was diagnosed with an eye disease at age 31, and for the next 12 years he tried to ignore his deteriorating vision. He'd trip over things his children left on the floor and had a hard time admitting he no longer should be driving. Dodd couldn't safely walk around town, either, because he lost his peripheral vision and couldn't see the cars coming.
In 2002, he received a guide dog, Rocky, at no cost to him from the Washington, Kan.-based nonprofit KSDS Inc. He went to 14 straight days of training to learn how to work with Rocky.
"At first, it was hard to put my trust in the dog," Dodd said. "You have something else looking for you."
Rocky eventually retired, and in 2009 Dodd got his second guide dog, Atlanta.
"It's very emotional. You make really good friends," Dodd said. "I can't express how much the dogs do for you."
To the outside observer, service dogs are the consummate professionals, the overachievers of the dog world. But like all dogs, they start off as puppies, and it takes a lot of work to teach them what they need to know.
Nancy Giossi is a Kansas University employee who is raising her fourth service dog. She and other local volunteers raise the dogs for two years on behalf of KSDS and later take them back for further training.
Being a KSDS puppy raiser is about socialization. The puppy raisers introduce the dog to any type of situation that might arise when they are in service, from walking through automatic doors to traveling by airplane. Giossi is with the dog all day, every day for two years.
"They go everywhere with you, whether you're in a good mood or not," she joked.
For trainers, it's hard to let their dogs go. "But when you see them with the person they get matched with, it's all worth it," said Mandi Holsten, another local puppy raiser.
• • •
It's just shy of two months since Mersmann-Laptad lost her home. The authorities have not determined an official cause, but she said they have told her it was likely started when her air-conditioning unit overheated. She had no homeowner's insurance. She's looking into getting a loan for putting a manufactured home on her property. The high cost of hauling away all of the rubble from her old home is threatening to sink the deal.
For Mersmann-Laptad, the colder weather means she doesn't get to be on her property with her dogs as many hours a day as she would like. She says she keeps moving forward because of them.
"There are days when it's too cold for me to be out here doing much, and it separates me from these guys. It's really upsetting," Mersmann-Laptad said. "They're not spending nearly as much quality time with mom as they're used to. I keep telling them I'm working on it."
Copyright 2018 The Lawrence Journal-World. All rights reserved. This material may not be published, broadcast, rewritten or redistributed. We strive to uphold our values for every story published.