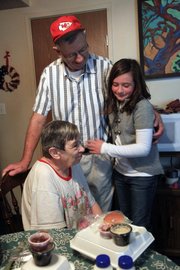 For the past two days, Maceli's, 1031 N.H., has looked a little like a Santa's workshop for Thanksgiving Day meals for the needy. Inside, dozens of volunteers worked furiously to cook, package and deliver more than 600 meals. About 350 would be driven to area homes and another 250 or so would be served at the Lawrence Interdenominational Nutrition Kitchen Thanksgiving Day dinner at First Christian Church, 221 W. 10th St.
The Journal-World followed the behind-the-scenes work that goes into the annual Lawrence tradition that's grown this year by 150 meals, the most the program has ever served.
"There is a need," said Deb Engstrom, LINK board member and coordinator of the program for the past five years.
3 p.m. Wednesday
The work starts the day before Thanksgiving, as about a dozen volunteers hustle prepping the meals, while the turkeys and mashed potatoes cook in the kitchen.
"One roll in a bag," shouts a volunteer, offering instructions to the crew.
"Where do the pies go?" asks another.
Engstrom, acting as foreman of the crew, says they'll work for about three hours today doing everything they can to make the big push in the morning go smoothly. Rolls get bagged, supplies get moved, and pumpkin pie gets cut.
The heavy lifting, though, starts bright and early the next day, Engstrom says.
10 a.m. Thanksgiving Day
Sommer Ferguson, Lawrence High School sophomore, came to help out with her family, who'll celebrate their own Thanksgiving later in the afternoon. Like most of the two dozen volunteers scurrying about, Ferguson has an assembly-line task: Load the grocery bags with the "cold" food — pies, coleslaw, butter, rolls, cranberry sauce and milk.
"Four of everything," says Ferguson, repeating her instructions. It's a little hectic, and confusing, as a determined volunteer runs around asking repeatedly, "Did you need coleslaw?"
Then Engstrom pops out of the kitchen, updating the crew with some bad news.
"The milk situation is this: We'll be sending out some (meals) without milk," she says. No one seems to have much time to stop and ponder the information; a little snafu, but the crew carries on.
Among the volunteers, there are first-timers, like Ferguson, and some who have been helping out with the meal for years, like Chris and Marion Anderson.
"We just stopped in to see if we could help," says Chris, explaining that his daughters went to the in-laws this year, leaving them free to volunteer. For Chris, helping out is natural this time of year.
"It's just the spirit of Thanksgiving," he says.
10:50 a.m.
The crew shifts from cold to hot foods on buffet-style prep tables, loading Styrofoam boxes with turkey, mashed potatoes, stuffing, green beans and gravy. It's crunch time, and there isn't much talking, clanking ladles drowning out the voices.
Dozens of families pour in, ready to take the reins and head out across the area — four meals to deliver per carload.
If things looked a little rushed, it's going to get a lot worse, warns Engstrom.
"Then it's going to turn into total chaos," says Engstrom of setting the delivery drivers loose.
But first, a pep talk.
Engstrom rounds up the dozens of awaiting drivers and their families and asks them to spend a little time with the people they'll be delivering to.
"Some people, you're the only people they'll see today," she says.
And they're off, carting boxes and bags out of Maceli's and into the Thanksgiving Day sun.
11:30 a.m.
The delivering is a tradition for Lawrence man Brad Stoll and his family. Cousins, brothers, aunts, uncles and parents all pitch in every year. Brandi Studer, sister and aunt from Austin, Texas, gets the assignment to take the kids along — Sam, 5, and his brother Jack, 9, from Lawrence, along with sisters Olivia and Maura, 9 and 13, visiting from Frankfort, Kan.
They pack into their sport utility vehicle and head out.
"We usually get lost," Studer jokes. "We just kind of laugh and carry on."
The crew's been delivering the meals for about eight years, and they share funny stories of deliveries from past years.
The kids chime in with why they like this particular family experience.
"I feel pretty good," says a voice from the back. "It's fun, too," says another.
They make the rounds, knocking doors and greeting people with a cheery "Happy Thanksgiving."
1:30 p.m.
While his sons were delivering meals in Lawrence, Stoll took the Eudora delivery route. After the scheduled deliveries, he had some extra meals and wanted to make sure someone got them before he celebrated the holiday with the rest of his family. Driving down a deserted Massachusetts Street, he spots a man sitting on a bench in front Teller's.
Brad pulls over and offers the man one of the extra dinners, and the man quickly accepts.
"There you go," says Brad, finishing the last delivery of the day.
Copyright 2018 The Lawrence Journal-World. All rights reserved. This material may not be published, broadcast, rewritten or redistributed. We strive to uphold our values for every story published.