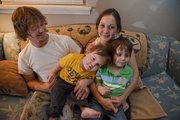 It's been a tough year for Cami and Clay Mitts.
The Lawrence couple, both 23, and their two sons, Carter, 3, and Cash, 2, spent the majority of the past year homeless, bouncing between motels and homeless shelters.
But they had a goal: to have their own place by Thanksgiving.
Two weeks ago, after several months in the Family Promise program, which assists local homeless families, the couple moved into a two-bedroom apartment.
"We're so proud," Cami said. "It all worked out perfectly."
Carter and Cash run around the apartment, while the parents tell their story of becoming homeless for the first time.
Living in their own home in Slater, Mo., last year, Clay was laid off from his $13.50-an-hour job. They eventually moved in with family, but they say substance abuse by relatives made the home a bad environment.
"We didn't want to be around drugs," Cami said.
The couple moved around as Clay sought a steady paycheck, but they were mostly able to just squeak by. Between February and July, the couple lived in motels and learned some lessons in frugality. After a $25 daily motel payment, the family of four somehow managed to eat for less than $10 a day.
"It put a lot of stress on me," said Cami of the family's struggles. "I gave up hope at times."
They weren't able to save enough for an apartment until they were accepted in the Family Promise program, which helped Clay get a job at a local roofing company.
Getting by with very little is a way of life for the couple now. Clay makes just $10.50 an hour, but they're finding ways to make it work.
"People just need a little bit of help sometimes," Clay said.
Family Promise
• Houses up to four families, and a maximum of 14 people, who can stay in the program for several months.
• Dozens of area congregations house the families for a week at a time.
• In 2010, the program provided more than 4,000 nights of shelter, assisting 14 families, including 32 children.
• For more information, or to donate, visit lawrencefamilypromise.org.
Turning away families
The Mitts' story is one of the few bright spots in a local social service system flooded this year by homeless families, and the family is one of the few not to be turned away by Family Promise, which works with only four families at a time.
Dana Ortiz, director of Family Promise, which uses a wide network of area congregations for housing, said she's had to turn away 33 families seeking entry into the program in just the two months she's been director.
A September Journal-World feature also highlighted the overcrowding at the Lawrence Community Shelter, which recently announced that it has raised enough money to move to a larger site. The shelter has routinely been using overflow housing at area churches when it exceed its 75-bed capacity.
"It's crowded everywhere," said Loring Henderson, shelter director. Henderson said shelter numbers are as high as they've ever been, as 90 to 120 people come to the shelter's doors looking for housing every day. Families make up the bulk of the increase, according to shelter staff.
'Grounded'
Clay is all smiles when asked about their Thanksgiving Day plan.
"Just us and the kids," he said, talking about the meal Cami will make that will "last a few days."
This year, they're thankful they were able to climb out of homelessness, and Cami said she shares her story to help inspire other families in tough times.
"It keeps you grounded," said Cami of their rough year.
They're hoping to end the year in their new home, and start 2012 with a new family member. Cami is expecting a third son in January.
They've met some other young families and are slowly making connections in their new city. Cami rattles off the names of all the people and friends through Family Promise who've helped her family obtain housing.
At 23, Clay admits it's taken him a few years to settle into fatherhood. A different, heavy-drinking life a few years ago resulted in a criminal record and some of the problems that eventually led the family into homelessness, he said.
But now, there's no going out; it's work and then head home to the wife and kids.
"This is a lot more fun," he said.
Copyright 2018 The Lawrence Journal-World. All rights reserved. This material may not be published, broadcast, rewritten or redistributed. We strive to uphold our values for every story published.