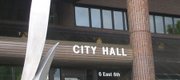 Subscribe to the email edition of Town Talk and we'll deliver you the latest city news and notes every weekday at noon.
News and notes from around town:
• Trash is still getting talked about a lot in Lawrence. We had another article last week about the latest discussions the Solid Waste Task Force has had on recommended changes to the system. That task force is still trying to hit its stride, it seems, but it is starting to get down to nitty-gritty time for the group. (Sorry to get all technical on you there.) If I were a city employee who worked on one of the city's trash trucks (I was for a day and it was the most dangerous job I ever did), I would be watching closely what comes next. I think what will be interesting to see is if the Solid Waste Task Force has a big discussion about the type of trash trucks the city should use. The task force is beginning to look more closely at what other communities are doing. Already, the group is hearing how some of the leading edge communities are using trash trucks that need only one person to operate the truck — the driver — as opposed to the three-person crews that generally are used in Lawrence. There was a time when the thinking was that such automated trucks — which use a robotic-like arm to pick up carts and dump them — weren't thought to be feasible in a college community like Lawrence. But one of the cities that the task force is studying is Gainesville, Fla., a major college town. A key part of its strategy to control costs is the use of automated trucks. Some communities even have found automated trucks that work well in tight alleys like the ones found in the Oread neighborhood. It will be interesting to see if this task force — and then the real deciders in this, the City Commission — will have the political stomach to talk about the reduction in the city's workforce that might come about by going to an automated fleet. (Or maybe the workforce wouldn't be reduced that much, if the city decides to operate a curbside recycling service instead of contracting it out to a private provider. Those are new routes the city would have to staff.)
I also think the trash discussion could get more interesting than I once expected at the City Commission level. For quite awhile I was picking up on signals that the commission wasn't going to be that interested in discussing privatization of the city's trash system. In other words, disbanding the city workforce and contracting the service out to a private provider. The city's task force doesn't seem too interested in that idea, but at the end of the day the task force doesn't make any real decisions. The City Commission does, and now I'm picking up signals from some commissioners that they think we ought to at least go through the bid process and see what type of rate a private company could provide. I could envision a process where the city's sanitation division will have to submit a bid just like the private companies. I don't think the City Commission will make a selection based solely on who can provide the lowest price, but I do think it will be an interesting process to watch. It is still early and a lot could change, but here is betting that 2012 will be a pivotal year for the city's trash service.
• If playing the stock market hasn't been to your liking, maybe you should have been playing the farmers market. A new report by the Federal Reserve Bank of Kansas City found that cropland values in the Midwest reached a record high. The per-acre price for farmland increased by a little more than 25 percent in the MIdwest, while pasture land increased by 14 percent. Kansas had the second highest rate of increase among states in the region with non-irrigated crop land growing in value by 20.2 percent, irrigated cropland growing by 14.9 percent and ranch land up by 12.4 percent. Impressive numbers, but Kansas trailed Nebraska significantly. As corn prices have risen so have land prices in the Cornhusker State. Both non-irrigated and irrigated crop land in Nebraska increased by nearly 40 percent, while pasture land was up by 26.2 percent.
I checked in with Kelvin Heck, a broker with Lawrence's Colliers International who handles several agricultural land sales a year. He said he largely would agree that Douglas County ag land prices have been following the same trend found by the KC Fed.
"There are people out there looking for alternative investments to the stock market right now," Heck said. "Land is still something they aren't making any more of, and I think some people are buying it just like gold as a hedge against bad times."
Heck said Douglas County bottomground is starting at about $4,500 an acre, with some fluctuation based on location and access to irrigation.
According to some agricultural newsletters I receive (ah, the glamour of being a Kansas reporter), ag leaders are split on whether the rapid rise in land prices is a sign of a coming bubble. On one hand, commodity prices have been strong — driven in part by the ethanol movement — and the growing markets in China and India have produced a need for more food. On the other hand, some of these land prices seem crazy. Heck said he's seen reports of some Iowa bottomland — the heart of corn country — selling for $16,000 an acre. Even at today's corn prices, that doesn't pencil out.
A piece of good news — at least for those who like farming — is that it seems less ag ground in Douglas County is being taken out of production. It used to be that if somebody bought a piece of ag ground in Douglas County, chances were good that it was a developer speculating on the next hot housing area. That type of buying has slowed considerably.
"I think people are buying it more for farmland than they are for speculation right now," said Heck. "If it is speculation, it is very long-term speculation."
• One area where farm ground — mainly pasture land — is still the subject of heavy speculation is the area near the Lecompton interchange on the Kansas Turnpike. We have been following for awhile now a lawsuit regarding 155 acres just north of the interchange. In October, we reported that the Kansas Court of Appeals overturned a ruling that allowed the property to be annexed into the city limits and zoned for industrial uses. Now, there is a new development in that case, and a twist. Ronald Schneider, the Lawrence attorney who represents the neighbors who filed the suit, told me the city and the county have asked the Kansas Supreme Court to review the annexation issue. But technically, there were two lawsuits related to that property — one regarding whether the county erred in allowing the city to proceed with the "island annexation," and another involving the industrial zoning of the property. The neighbors won on both issues. But the city and the county are only appealing the annexation decision. According to Schneider, that guarantees even if the Supreme Court rules in favor of the city and the county on the annexation issue that the property still won't be able to be used for industrial purposes. Since the industrial zoning has been nullified and is not being appealed, that means any attempts to make it industrial property in the future will have to be subject to another City Commission vote. Given that a Supreme Court case could easily take more than a year, that vote may come from an entirely different City Commission. Bottomline: The issue of whether the area near the Lecompton interchange is going to be the city's next big industrial/warehouse area is going to be a political battle for quite awhile to come.
Copyright 2018 The Lawrence Journal-World. All rights reserved. This material may not be published, broadcast, rewritten or redistributed. We strive to uphold our values for every story published.