About 60 kids — darn near 90 percent of the upper grades — from Bishop Seabury Academy spent a rough night out in the cold on Sunday. The rules were laid out ahead of time: You get one blanket and no fancy coats, just "working clothes." No leaving the parking lot in front of the school, no sleeping bags, no food and perhaps most shockingly — these are high-schoolers, remember — no cell phones.
"I'm not going to lie; it sucks," said Elizabeth Tweedy, a senior and one of the school's prefects, or student leaders.
And that was barely an hour in.
So why did such a large number of students gleefully volunteer to stay outside all night, facing freezing temperatures and a slight chance of snow?
It's an annual tradition at Seabury, kind of both a zenith and nadir in the school's two-week, pre-holiday food drive.
Teacher and community service coordinator Bill Gollier says the campout in front of the school near Clinton Parkway and Crossgate Drive gets "an interesting reaction" from folks across town, but that means it works. The students' perspectives on homelessness and on the need for community service are positively changed, and, he said, "if we can get just a small amount of food donated, it's all worth it."
On the street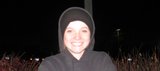 It's a nice humbling experience to have close to the holidays.
This is Tweedy's second year participating, and she says she sees the benefit in participating in such hands-on community service.
"We know that other people do this every night," she said. "It's a nice, humbling experience to have close to the holidays."
The students involved spent the daylight hours doing yard work for various community organizations and cleaning the kitchen of the Lawrence Community Shelter. They'll continue with service projects today as part of the school's "Heritage Day" celebration.
Padget Sutherland, a junior who helped organize this year's event, said the camp isn't an "imitation" of society's less fortunate but rather an expression of doing whatever they can to give.
"It's about raising awareness across the community," she said. "Anything helps."
Peter Cooney, a senior and another prefect, summed up the reward for the students after their few hours of cold and discomfort while he was talking with Sutherland and Tweedy about the families they see in the food pantries picking up the items the Seabury kids have donated.
"They thank each and every one of us," he said. "That just feels great."
The students will still be accepting food and item donations until 8:30 a.m. today at their school, 4120 Clinton Parkway.
Copyright 2018 The Lawrence Journal-World. All rights reserved. This material may not be published, broadcast, rewritten or redistributed. We strive to uphold our values for every story published.