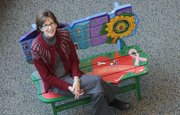 The numbers she deals with are impressive.
"We have an extraordinary group of volunteers," says Allyson Leland, Lawrence Memorial Hospital's director of volunteer services. "Last year our 869 volunteers contributed over 65,000 hours."
Born in Topeka, Leland's passion for volunteering was inspired by her parents. Her late father, a Shawnee County district judge for 35 years, and her mother, director of volunteer services at St. Francis Hospital, served on many boards, were active in their church and encouraged their children to give back to the community.
Leland's first "big" volunteer job was with the Topeka Humane Society.
"I was always into animals. We had a variety of cats, dogs, rabbits and a pet goose when I was growing up," she recalls.
"Once I was in junior high, the Humane Society seemed like a natural fit. For four years I spent most of my free time there cleaning cages and giving baths."
She received Red Cross swimming and lifeguard certifications and throughout her high school and college years taught neighborhood kids to swim in her backyard pool.
While attending Kansas University, she worked as a lifeguard and pool manager at Hillcrest swimming pool, in Topeka. In 1981, she graduated from KU with a bachelor's in recreation administration, married fellow KU student Bob, worked as teen coordinator for Topeka Girls' Club, and eventually became Topeka Parks and Recreation Association's first volunteer coordinator.
When Bob was transferred to California in 1989, Leland worked as San Diego's United Way student volunteer coordinator, and when they returned to Lawrence in 1990 she became the first person paid to work with LMH's Auxiliary.
"The Auxiliary had been in place since 1959, and was a good organization when I started," she explains.
"One of the biggest challenges we've faced has been adapting to the hospital's tremendous growth and changes over the past 20-plus years."
Leland, who now supervises three paid staff members and the growing volunteer base, loves her job.
"I've a wonderful job and have the opportunity to work with so many dedicated people: volunteers, staff members, physicians, and Auxiliary Board members," she says.
"I love interviewing potential volunteers and finding ways for them to share their many talents with our organization. It's also very rewarding working with students and to see their passion for health care develop. We're thrilled when we hear one of them has been accepted into nursing or medical school."
Leland says many of the adult volunteers she's interviewed say they're motivated by the desire to "give back" to the hospital because they or a family member have received excellent care there. Others simply believe in the importance of serving their local community.
She strives hard to ensure volunteers are appreciated. LMH holds an annual volunteer recognition celebration in the spring, and gives quarterly volunteer awards including the newly named "Wallace May Volunteer of the Quarter Award."
"There's really no way to adequately thank our volunteers for everything they do for us here," Leland says.
"I'm constantly in awe of the level of our volunteers' dedication and commitment. It's a privilege for me to work alongside so many inspiring people."
Copyright 2018 The Lawrence Journal-World. All rights reserved. This material may not be published, broadcast, rewritten or redistributed. We strive to uphold our values for every story published.