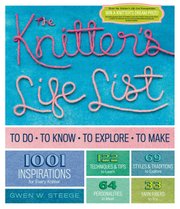 "The Knitter's Life List"
Storey publishing, $24.95
Available at Amazon.com in print and e-book
For a preview, go to http://ljw.bz/t6rQvu
Anybody with a serious knitting habit already has too many skeins of yarn, too many pairs of needles, and gobs of books and patterns. Sorry to contribute to your problem, but "The Knitter's Life List" (Storey) by Gwen Steege really is worth adding to your stash.
This isn't a compilation of patterns. Steege, a veteran knitter from Massachusetts and a craft editor at Storey, has produced a comprehensive wish list of a reference book that can expand your personal boundaries.
So, in the yarn chapter, you'll get a terrific overview of the myriad types of sheep's wool, of course, but you'll also learn about (and be enticed by) the fibers of many other animals and plants — qiviut, for example, the superlight, superwarm yarn from musk ox. This approach also covers techniques, patterns and more. Sprinkled throughout are profiles of artisans, fiber producers and designers discussing their passion.
Steege said the book was inspired by a conversation involving birders who travel the world to see birds to add to their avian "life list."
''As knitters and general fiber lovers, there were all sorts of things we, too, want to do," she said, "and (I thought) it could be fun to gather those ideas into a book."
Indeed, her book transforms knitting into a great adventure, and her challenges (there are hundreds) run the gamut. To list three: visit a fiber festival; use the colors of a favorite painting as inspiration for your next project; unravel a thrift-store sweater and recycle the yarn.
We like that Steege has crafted this marvelous journey with an open-minded approach. "The Knitter's Life List" will entertain and occupy every level of knitter — even if it means making more room for all the new projects and supplies this joyful book is likely to inspire.
Copyright 2018 The Lawrence Journal-World. All rights reserved. This material may not be published, broadcast, rewritten or redistributed. We strive to uphold our values for every story published.