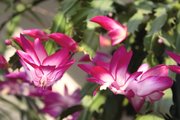 Right on schedule, the holiday cactus in my office window presented a glorious burgundy blossom last week. Now is a great time to add one or more of these epiphytic cacti to your collection.
Holiday cacti are more often called Christmas cacti, but there are actually three species — Thanksgiving, Christmas and Easter. They are named for the holiday that most closely coincides with their respective bloom time.
All three holiday cacti varieties grow best in bright, indirect light in your home or office. Mine is happy in north-facing window. They also like to be a bit pot-bound and can withstand some neglect. Flower colors range in shades of pink, red, yellow, salmon, white and combinations of those colors with white.
Now, how did my cactus know Thanksgiving is almost here? I did not put up any special decorations or start playing turkey songs. The cactus has not been out shopping (it would probably just be confused about the season if it had) or watching television.
The Thanksgiving cactus, like other holiday cacti, blooms as a response to day length. The plant needs 25 consecutive days with nights lasting more than 12 hours to stimulate flowering. After that time period, the plant needs an additional nine to 10 weeks for buds to fully develop into blooms.
In my office, the Thanksgiving cactus receives natural light during the day and has the necessary long nights when the overhead lights are off in the evening. (Nights are naturally longer than 12 hours after the fall equinox, which occurred on Sept. 23 this year.)
In your home, lighting may inhibit flowering. You do not have to sit around in the dark in future years just to get your plant to bloom, though. Just put your holiday cactus in a closet or dark room each evening starting in mid- to late September.
Many gardeners report that keeping the plant outside over the summer (in indirect light and bring them in before frost) is enough of a light change to stimulate flowering for the appropriate holidays.

Temperature may also stimulate flowering: When holiday cacti are kept at 50 to 55 degrees F, they will flower regardless of day length. However, temperature-stimulated flowering is generally less uniform than flowering stimulated by day length. If temperatures drop below 50 degrees, the cacti may not bloom at all. Thanksgiving and Christmas cacti are closely related species — Schlumbergera truncate and S. bridgesii, respectively. They are both native to the tropical rainforests of South America. Easter cactus, Rhipsalidopsis gaertnerii, is found in the natural forests of South America.
The most common of the holiday cacti is the Thanksgiving cactus. Thanksgiving cacti differ from the others by the hook-like appendages on each segment. The edges of Christmas cactus segments lack the hooks. Easter cacti also have smooth-edged segments and may have small brown hair-like structures. Holiday cacti can also hybridize, making species identification more difficult.
Copyright 2018 The Lawrence Journal-World. All rights reserved. This material may not be published, broadcast, rewritten or redistributed. We strive to uphold our values for every story published.