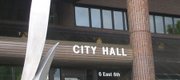 Subscribe to the email edition of Town Talk and we'll deliver you the latest city news and notes every weekday at noon.
News and notes from around town:
• You thought you had the system beat. You break down and buy a Kindle, one of those fancy George Jetson-like E-reader devices. You'll finally be part of the cool crowd at Starbucks. But you know a little secret. You have found a way to get around paying the few dollars per book to buy E-books for your Kindle on Amazon. The Lawrence Public Library, and many others across the state, allow you to download Kindle content from their sites for free. Well, your plan is about to come crashing down. The Lawrence Public Library recently announced that service is coming to an end. The Lawrence library gets its access to Kindle content through a contract that the State Library of Kansas has with a third-party provider, OverDrive. But the relationship between the state and OverDrive has fallen apart. From the state's standpoint, OverDrive is insisting upon an unreasonable 700 percent increase in administrative fees for the program. (It would go from about $10,000 today to about $75,000 in 2014.) Those administrative costs are in addition to the money libraries spend to actually buy specific E-book titles.
From OverDrive's standpoint, the fee increases are reasonable. The company told the publication libraryjournal.com that the amount of E-books being checked out through Kansas libraries has increased 10-fold since the contract began in 2006. Because of that increased usage, OverDrive has additional bandwidth costs, hosting costs, and support services costs that it has to cover with the administrative fees. Nationwide, OverDrive says users of its system are checking out one E-book per second.
The bottomline is this: The ability to check out Kindle content at the Lawrence library and most other libraries in Kansas will end Dec. 5. The state library is bringing a new system online, called Kansas EZ Library. But the state library is warning users that the new system won't yet have Kindle content. The state's new vendor — 3M Cloud Library — is in talks with Amazon to allow Kindle content on their system, but no one knows when or if that will happen. Exactly what type of E-readers will work with the new system wasn't entirely clear to me. The state library's site says, "All current devices which have been in long-term use should work with the new services." But then it goes on to say that Kindle won't work, so I'm not sure what long-term means.
Actually this whole thing is kind of like Moby Dick to me — confusing and I'm guessing symbolic of something else. (The whale is symbolic of what???) Anyway, I'll keep my ears open for any new developments and report back. Or, if you see me in Starbucks, feel free to ask for an update. I'll be the guy sitting at the uncool table.
• From readers to rifles. How's that for a transition? The Lawrence Police Department is making an effort to try to get more officers to own "patrol rifles." City commissioners at their Tuesday meeting will consider a recommendation that will allow police officers to purchase through the city certain types of rifles that officers then would carry with them in their patrol vehicles. The lease-purchase program basically would allow the city to buy the rifle and then the officer would repay the city through 26 automatic payroll deductions. That is basically the same program the city has in place for officers and their patrol pistols. The city provides all police officer equipment except patrol pistols. Officers are required to own those, with the thinking being that if they own the pistol it will be more readily available for them to practice with, they'll be more familiar with it, and they'll take better care of the weapon. According to a police department memo, the department has "embraced" the idea of officers carrying patrol rifles. But the department hasn't provided a program for the officers to purchase the rifles, which must meet certain specifications. According to the memo, it sounds like the expectation now is for all officers to "have training on the use of and access to a patrol rifle." The memo says it will allow several types of rifles to be purchased, although it doesn't get into specifics. It estimates that the average cost of a patrol rifle with optics will be about $1,600. The police officer will be responsible for repaying the city the full amount. City commissioners this week have a special meeting time of 9 a.m. on Tuesday at City Hall because of the holiday week.
• I'm an auction fan, so occasionally I pass along interesting things I see up for auction. I don't know enough of its story, but this seems like it might be an interesting piece of history that is going on the auction block. The old White School in North Lawrence — 1510 N. Third St., which is just before you get to TeePee Junction — will be sold on Saturday. Auctioneer Bill Fair tells me that the building was constructed in 1929 as a rural school house. I'm not sure when it stopped being a school house, but at some point it started providing lessons of a different type by becoming a bar. (If you don't think a bar teaches you some lessons, you haven't been to enough of them.) By 1967 it was a bar known as Ichabods.
"There was a time there that if you went to KU, you definitely would have known of Ichabods," Fair said. "It was a bar kind of on the edge of town in those days."
More recently, it has been an antique shop, a catering business, offices, basically everything but a residence, although Fair said it could make an interesting one of those too.
It will be interesting to see what comes next for a unique piece of Lawrence's history. The auction starts at 11 a.m.
Copyright 2018 The Lawrence Journal-World. All rights reserved. This material may not be published, broadcast, rewritten or redistributed. We strive to uphold our values for every story published.